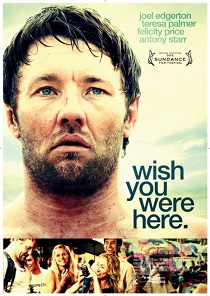 Wish You Were Here starts with two Aussie couples on a South Asian vacation, both of whom dance through the opening credits with beers in-hand and ecstasy tablets at the ready.  It all seems a little too good to be true, and sure enough, before the audience learns how the party wrapped up, events have shifted a few days into the future, when one of the couples arrives home in Sydney with a dark, uncomfortable cloud hanging over them.  Yet what initially tastes like an Australian retread of the woefully bad late-90's Asian-vacation flops like Brokedown Palace and Return to Paradise quickly evolves into a taut, well-paced film about guilt, shame, pride, and fear.
Much of this lands on the very nervous shoulders of Dave (Joel Edgerton), who along with his wife, Alice (Felicity Price), has a few questions to answer about what happened to their travelling companion, Jeremy.  The couple had gone to Cambodia with Jeremy and Alice's sister, Stephanie (Teresa Palmer), and had all enjoyed themselves until Jeremy went missing sometime after the events shown during the movie's opening credits.  Although Stephanie is still looking for Jeremy in Cambodia, and Alice remains optimistic, a nervous, slightly terrified aura surrounds Dave, and hints at something foul just beneath the surface.
Thus set up, director Kieran Darcy-Smith has a lot to play with.  Yet neither he nor the script seems willing to stop there, for the development of each of these characters, even the largely unseen Jeremy, is what sets Wish You Were Here apart from the standard 'westerner-in-trouble' fare like Midnight Express, or the aforementioned late-90's tripe.  Darcy-Smith's film unspools slowly, like the line of a patient fisherman, and gives the audience only what slack it needs to keep swimming.  Small bits of information tumble out of the flashbacks that come in splashes throughout the film, and work in concert with the increasingly desperate state Dave finds himself in as the picture progresses.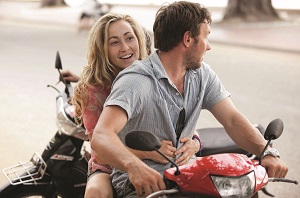 Indeed, a growing sense of dread and anxiousness builds as the audience learns more and more about the night in question, and it all informs the changes and developments in Dave and Alice.  Stephanie eventually returns from Cambodia to further complicate matters, and to press the emotional breaking point of her sister and brother-in-law beyond the limit one might have thought possible.  All of it adds up to an emotional and cathartic conclusion that does justice to the tension building throughout all preceding acts, yet leaves the characters and their universe grounded enough to make the whole thing frighteningly plausible.
Much of this is the result of Darcy-Smith's thoughtful directing and visual choices, for the scenes all evoke a particular tone that seems appropriate to the moment.  Throughout the first two-thirds of the film, many of the conversations between the characters are guarded and combative, and are framed tightly, without motion.  It's set up so that the audience feels like an outsider, peeking into a private conversation that's not their own, and the effect is magnificent.  Conversely, near the end of Wish You Were Here, when the characters begin to open up, and the events of the vacation begin to come to light, deep, luscious backgrounds are introduced into frame: as if there's no need to hide any longer.  These choices are subtle, yet add a flourish to the film's creative texture that only enhance the overall experience.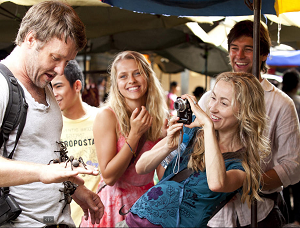 And while credit should certainly be given to Darcy-Smith for crafting such a thoughtful, patient, and suspenseful drama, leads Joel Edgerton and Felicity Price absolutely steal this one.  As a married couple going through a very difficult ordeal, not to mention a whole other one that's dropped into their laps in the second act, the two hit all the authentic beats available to them.  Edgerton has been on fire recently, what with his well-regarded turn in Zero Dark Thirty, and his appearance in the star-studded Great Gatsby debacle, and his performance in this film seems to validate the attention.  It would have been easy to over-act his part in Wish You Were Here, yet the man's perpetually understated, grave bearing is the perfect fit for this movie, and represents maybe the best work of Mr. Edgerton's career.
Small details also bolster this picture, like the performances of the kids playing Dave and Alice's children, who alternate between murderously obnoxious and precious in the blink of an eye (just like the real thing).  The fights Dave and Alice have also smack of authenticity, for their words don't fly back and forth like two people in a debate, but instead pass with a pained, exhausted tone that feels far more genuine.  It helps that the script (co-written by star Felicity Price and director Kieran Darcy-Smith) doesn't offer up any easy solutions in the characters, all of whom are littered with faults enough to keep any from assuming the "hero" mantle in the story.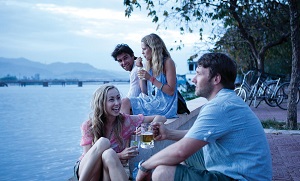 Just like in real life, people make bad decisions, say stupid things, act even dumber, and must then suffer the consequences.  What's more, a person often has to deal with the fallout of an event's consequences, for suffering an indignity is one thing: living with it is another matter altogether.  As Dave, Alice, and Stephanie all come to terms with what took place in Cambodia, they all are forced to confront certain aspects of their personalities that might not have been revealed had the vacation never taken place.
The development of each character is just as fascinating as the revelation of what happened during the night in question, and the unraveling of the "Jeremy mystery."  This feat is something to marvel at in itself, for few movies have the sand to carry an entire plot on flashbacks and character development.  Currently playing at this year's Seattle International Film Festival, Kieran Darcy-Smith's Wish You Were Here does this with aplomb, and isn't one to be missed.