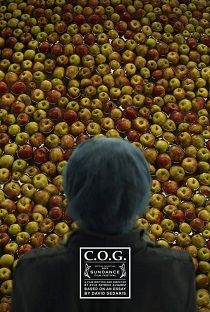 Long touted as this generation's Raymond Carver, David Sedaris has lurked on the fringes of popular media for more than two decades.  A celebrated and successful author of fiction and personal essays that have sold in excess of seven million copies, talks of a Sedaris film adaptation have percolated for years.
C.O.G., a short story from Sedaris' 1997 collection of essays Naked, is the progeny of this slow-simmered hype, and does about as well as a Sedaris fan might hope for; the story of a recently minted Yale grad looking for a taste of the genuine American experience. C.O.G. has its funny moments, not to mention a few unexpected twists — all of which combine to make an enjoyably original picture.
Jonathan Groff plays the film's lead, David, though as he states early on, he'd like to go by Samuel for the time being.  Samuel just got his Masters at Yale, and is travelling by bus to Oregon to work in an apple orchard with his soon-to-arrive girlfriend.  On a mission to discover his baser, more laborious roots, Samuel quickly learns that life in the tradition of Kerouac and Steinbeck isn't the romantic spiritual vacation he'd hoped for.  The work in the orchard is hard, relentless, and pays peanuts, and to make matters worse, Samuel finds that all his education and exposure to culture is more than just useless, it's actually an impediment to success in this new world of his.
Director Kyle Patrick Alvarez does a great job playing this dynamic up without sending it too far over the top, for the silent, sideways glances and leery retorts provide some of the film's funniest moments.  It all starts with Groff's portrayal of Samuel, however, for every word that comes out of his mouth, along with every stitch of clothing on his body, reeks of haughty condescension.  This is entirely appropriate, as C.O.G. is an exploration of one young man's path towards what might accurately be described as emotional and intellectual dismemberment.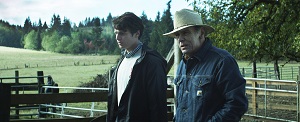 Taken as a whole, the film is quite simple.  It follows Samuel through a series of attempts to find out who he is away from the comfortable confines of his east coast, collegiate life.  It's all a sham, however, for Samuel is never actually on his own, and seems loathe to allow himself to be.  He only goes to the apple orchard because his girlfriend is supposed to join him there, and when that (predictably) falls through, he looks to the migrant workers around him for support.  When they leave him, Samuel turns to the amiable fork lift operator at the local apple factory, and then, when he's at his lowest, he throws himself upon the mercy of the Lord.
The journey is an interesting and surprisingly humorous one, yet falls just a bit short in its third act.  Without going into too much detail, it should suffice to say that Samuel is considerably humbled by the end of the film, and seems to have grown up a bit in the handful of weeks he's spent in Oregon.  Yet the film pulls up just short of providing a scene(s) that shows how the experience influenced the life he will live going forward.  It's something of a quibble, for at the end of the day, this open-ended approach may have been what director Alvarez was going for, if only so that the picture might remain faithful to Sedaris' source material.  Yet something to demonstrate how this mini-adventure has shaped or educated Samuel would really bring this full-circle narrative, well … full-circle.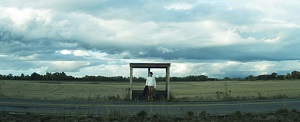 Visually speaking, C.O.G. doesn't skimp on its shots, and gives both Samuel and the audience a number of luscious moments to really soak up the atmosphere of the Pacific Northwest.  The structure and tone of the film also give the audience credit for being smarter than Samuel, something that allows someone watching to enjoy the core components of what might have actually made this orchard adventure a success had Samuel actually knew what he was getting into.  Indeed, closer reads of books like On the Road and Cannery Row show these exploits to be beneficial for the characters not because they were necessarily fun, but because they were difficult, raw, and frightening.  Adventures out "West" or in some factory can educate a young person, but only if they fully embrace the realities of such a lifestyle, and humble themselves enough to learn from the experience.
Samuel's journey in C.O.G. is about his willingness to cast off the pretensions of his former life so that he might embrace what working-class living can teach him.  Unwilling at first to so much as remove his Yale sweater, one that clearly identifies Samuel as an intellectual, Samuel eventually learns a few lessons about life on the other side.
Showing at this year's Seattle International Film Festival starting May 24, C.O.G. offers some lighter fare, and at a very brisk 87 minutes, is an easy and consumable treat — especially for all you Sedaris fans out there.