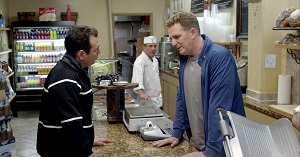 Mafia movies have been done seventeen different ways from Sunday, from the family epic (The Godfather), to the gritty (Goodfellas), the foreign-born (Infernal Affairs), and even the comic (Analyze This).  Some have argued that David Chase's exemplary television series, The Sopranos, so thoroughly and thoughtfully examined the intricacies of mob life via six seasons of top-notch drama that any purely cinematic attempt to capture the experience in two or three hours would now be folly.
Truly, in the post-Sopranos era, this is a daunting task, yet it's one director David Rodriguez bravely tackles with his newest feature, Last I Heard.
Paul Sorvino plays Joe Scoleri, a New York mob "Cappo" who amicably walks out of a federal prison in the film's opening moments.  His first appointment upon release is with his lawyer, who explains to Joe and the audience that the federal government has granted the aging mobster a conditional release due to his failing health, and though free, Joe is going to be under strict supervision.  This means that Joe cannot contact his former associates, and if his parole officer or the F.B.I. agents trailing him catch any whiff that he's back to his old tricks, he'll be whisked back to jail to die there instead of at home.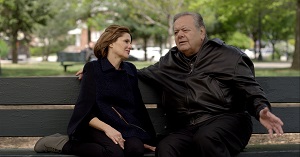 This last point is a somewhat important one, for the feds make it clear to Joe (and pretty much anybody else listening) that they are only letting him out of the can so he can live out his last couple of months at home, in peace.  One of the next trips Joe makes on the outside is to a doctor, who confirms Joe's advanced heart disease, and the government's grim prognosis.  Joe is thus stuck in a prison only a little less confining than what he suffered in jail, for although he's out, he's afforded pretty much the same luxuries as when he wasn't.
It's a very interesting approach to the material, for there haven't been a lot of movies or television shows that have seriously examined this side of ex-mafia life.  Many have teased at it, to be sure, for the film that catapulted Mr. Sorvino into public view, Goodfellas, ended with a monologue from the main character about the agony of living a civilian life after enjoying the kingly existence of a "wiseguy."  Yet this is usually as far as a movie is willing to take it without veering off into comedy, or an eventual return to full-fledged mob-living, for audiences get tired of watching characters living normal, uneventful lives.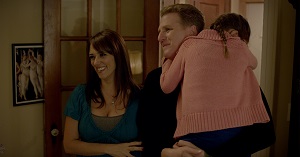 Indeed, people don't need to go to the movies for that: they can stay home.  No, people usually go to mafia-themed movies to live vicariously through dramatized characters experiencing a life far too edgy and terrifying for most folks to even consider.  For Last I Heard to dive head-first into the flip-side of this challenging realm is quite the leap, and the movie survives it largely due to the strong performances of its cast, and the creativity of its script.  And while it would have been easy to let the narrative of this one slip away into clichéd territory (the aforementioned comedy-swing, etc.), Mr. Rodriguez keeps his story unconventional.
For example, in mob movies the tough Wiseguys are often hard on their women, and usually rely on their male companions and family members to see them through the tough times, yet in Last I Heard, it is Joe's daughter who surfaces to take care of the old man once he's released.  Their relationship is hardly cut-and-dry, however, and one of the many things that Joe must come to terms with twenty years after his incarceration is the fact that his little girl is now very much her own, modern woman.  There are some hard truths that pass between father and daughter, and come as a result of the life the former used to live, yet they provide some of the best moments of the film.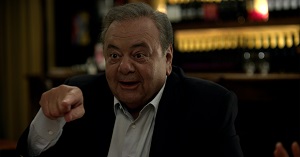 Michael Rapaport plays Joe's neighbor, Bobby, a middle-aged local who has known Joe all his life, and feels sorry for the old man.  A kind-hearted family man who never got mixed up in any mob business, Bobby still feels that the neighborhood Joe once protected owes the man a little respect in return, and takes the aging Cappo out for his errands as a result.  These two relationships form the anchors of Joe's existence in the film, and inform his growth, for to survive on the outside the aging mobster must abandon the man he used to be, as neither anchor will have anything to do with him otherwise.
Joe has some trouble with this, to be sure, for prison never forced this on the guy, and certainly didn't put him in a position where he had to confront some of the poorer choices of his past.  Yet Paul Sorvino shines in a way he has never been given room to do so in these scenes; the moments where he must own the choices he made in a life that increasingly feels like an eternity ago torment the man, and are a revelation to watch.
It's enough for a person to temporarily forget some of the film's faults, which include a somewhat uneven third act that's largely the result of a conflict-driven B-plot lacking teeth.  The drama of Joe's dilemma on the outside might very well have carried this movie with a little more development of secondary characters like Steven Bauer's Parole Officer, or Paul Ben-Victor's Vinnie character.  Both are superb actors, and appear in the movie in tantalizing scenes early-on that never really pay-off, which is a shame.  Playing at this year's Seattle International Film Festival, Last I Heard is still a very good time, however, and a novel peek at a side of mob life that rarely gets a look.