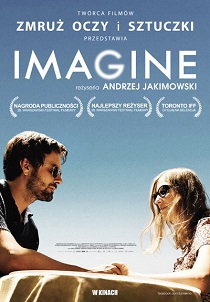 Sort of a cross between Dead Poets Society and Scent of a Woman, director Andrzej Jakimowski's newest film, Imagine, bravely delves into the world of the blind and one man's struggle to transcend the limitations of the visually impaired.  Impressive because of its unique story, but also as a result of the thoughtful way in which Jakimowski shoots it, the film works because it puts the viewer into the shoes of its characters and fastens the laces tight enough to keep them there.
Primarily the story of one man's challenging lifestyle, and his attempts to share its secrets to those similarly afflicted, Imagine taps into basic human fears of change, and an almost automatic sentiment of disdain towards anything difficult yet still within reach.
Edward Hogg plays this lead, Ian, a British teacher who insists that a person's mind can largely make up for any visual deficiencies that might encumber them.  Utilizing echolocation, Ian navigates the thickest crowds, and even the most traffic-congested streets without the use of a cane: a tool he feels actually encumbers him.  A dangerous life-choice for a man in his condition, to be sure, it's also an empowering decision that forces Ian to sharpen his other senses to a degree that gives his abilities something akin to those of a superhero (indeed, Daredevil would be impressed).
As Imagine begins, Ian arrives at a Lisbon clinic for the blind, one which also serves as a school for similarly afflicted children of all ages.  The doctor running the institution tells Ian that while the board has agreed to bring him in as a teacher, Ian's walking sonar methods are simply too dangerous to share, and that he needs to keep his classroom lessons to the essentials.  Although Ian seems happy to comply with the directive, once classes begin it's clear that the new teacher has his own ideas about what is essential, and what isn't.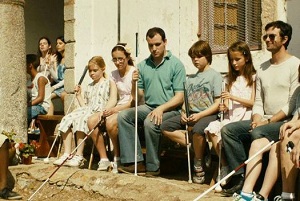 These classroom scenes are some of the best of the picture, both for what they add to the story and its characters, but also for the way Mr. Jakimowski handles them.  Ian's classes have everyone sitting outside, in the clinic's courtyard, where they all listen for the world's small details.  Every scrape of the shoe and click of a pruning shear offers clues to a mystery that simply looking upon a scene could solve in an instant.  Ian forces the children to hear, smell, touch, and absorb the world around them, and begins to show them how a person nourished on such stimulus can get by without eyes.
These moments are a delight, for the film sets them up perfectly: keeping the camera on the faces of the blind children Ian is schooling.  He talks them (and the audience) through the visual realization process, and asks about the clues that can be found from a nearby person's clothing, or the work they're doing.  By forcing the audience to imagine the scene along with the characters, a more fully developed sense of the process begins to grow in the mind of the viewer.  The foley and sound work is also exceptional, for all the details Ian speaks of rise to the surface right when he begins to talk about them, and color the scenes in magnificently.  It's a superb detail, and is something that gives one the sense that a great deal of work went into the production of background sound in Imagine.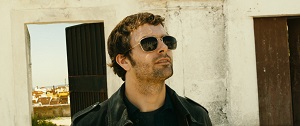 As the film progresses, Ian challenges the preconceived notions about what a blind person is capable of, both for his students and the clinic's administrators.  In each camp, there are those that seem threatened by this new teacher's swagger, his confidence.  What he proposes as a means to navigate the darkened void before him seems impossible to those that can see, and so difficult a skill to perfect for his blind students that a rumor begins to circulate that Ian actually does possess sight.  None of this seems to come as much of a surprise to Ian, however, which makes sense since he would have likely gone through a similar period when he first encountered the mentor that instructed him.

Yet Mr. Jakimowski is careful to keep things grounded, and to remind the audience that Ian is indeed a blind man, and prone to the dangers of the real world like anyone else.  A few accidents befall Ian throughout the run of Imagine, and they're sober prompts that bring the sheer audacity of this new teacher's lifestyle into focus.  The film also gives extra time to two particular students, Eva (Alexandra Maria Lara) and Serrano (Melchior Derouet), both of whom come to learn some of the nastier realities of a blind life without a cane, and proceed with their lessons differently as a result.  The progression of both under Ian's wing represents one of the themes at the foundation of this film, and that's a person's courage to trust in themselves and the natural abilities one can hone and sharpen with nothing more than grit and determination.
A concise film at just over a hundred minutes, Imagine is a unique picture stocked with interesting characters and a surprisingly suspenseful undercurrent that refuses to go away.  A Polish film, much of the picture is in English since Ian is at the center of pretty much every scene (making this a foreign film with few subtitles: a rare treat).  Currently playing at this year's Seattle International Film Festival, Imagine should keep audiences engaged, for cinema about blind characters has never looked so good, nor felt this fresh.