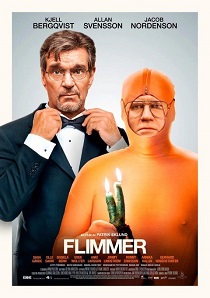 There's a fine line between homage and plagiarism, and while the Swedish picture Flicker (Flimmer in its native country) certainly doesn't land on the latter side of that fence, it leans far enough in that direction to flirt with so unfortunate a distinction.  To be fair, it's more like heavy leaning and borrowing than theft, for Patrik Eklund's feature film debut feels like one part Office Space, two parts Love Actually, and just a pinch of The Skin I Live In: all of it with a Wes Anderson baste.  Once cooked it becomes clear that the grand combination of this needs more time in the oven, however.  Indeed, the final product looks nice, yet it is decidedly short on that substance and balance which made the aforementioned films and filmmaker successful.
Set in the Swedish municipality of Backberga, the events develop via the intersecting lives of several employees of Unicom, a struggling telecommunications company headquartered in town.  There's Kenneth (Jacob Nordenson), the feeble and mousey company accountant who suffers a series of professional indignities that makes one wonder why Eklund didn't just go all the way, and name him Milton.  There are also the two Unicom field techs, Roland (Jimmy Lindström) and Jörgen (Olle Sarri), both of whom suffer physically after a job-related mishap.  Finally, there's Unicom's cleaning lady, Birgitta (Anki Larsson), who has severe arachnophobia, and the cruel but secretly insecure co-President of Unicom, Tord (Kjell Bergqvist).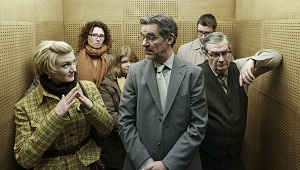 Although Eklund does a decent job moving things along between all these different interconnected plot-lines, the characters and their worlds never give the audience anything to root for.  This is largely because Flicker seems so intent on nailing all the little jokes in its carefully crafted scene set-ups that it forgets to develop the characters and plot along the way.  It all has the whiff of Wes Anderson, Noah Baumbach, and Hal Ashby, yet never clicks like the successful work of those directors because their characters started with a familiar, human core and radiated eccentricities outward from there.  Conversely, all of the people in Flicker seem like parodies of parodies, and exist as a quirky wild card within the script and little more.
One can get away with this if utilizing one such actor in this capacity, yet a movie completely populated with them grows tiresome in a hurry, especially if the film they inhabit can't decide on what tone it's going for.  A somewhat silly and surreal comedy throughout most of its first act, Flicker quickly changes gears in the second, and settles into a fairly serious drama.  By the third act, when yet another plot thread involving eco-terrorists is thrown into the mix, which adds an element of tongue-in-cheek irony and farce to the already muddled tonal stew, it's hard to know what to make of things.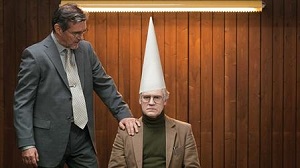 To be fair, there are some funny scenes in this one, and a few characters that almost begin to develop into reasonably complete human beings before the last third of the movie takes a dump on all that.  For example, Roland's journey through Flicker is a fairly interesting one, what with the personal struggles he must overcome as a result of his accident, yet instead of developing this thread and taking it through to a realistic (albeit difficult) conclusion, Eklund elects to kill the problem with a magic bullet and sweeps it under the rug.  A curious decision, yet one that makes perfect sense when watching all of the poorly developed plot threads getting increasingly frayed as this picture slogs onward.
The introduction of the anti-electricity crusaders does lend a bit more depth to Flicker, mostly due to the ironic association between the terrorist cell's leader, and his anglepoise lamp-arm.  Electricity is a consistent theme throughout the picture, and repeatedly resurfaces as something of a thematic muse for the movie.  Eklund seems to be pushing this idea that all his characters are connected, as if via some sort of unifying current that bonds everyone within a community (or even the world at large).  The characters never develop enough to see this through, however, and what the audience is left with by the end of it all is a series of "big" decisions that all fall a bit flat.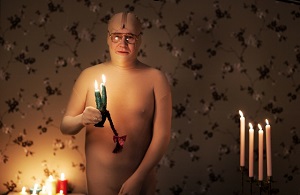 Indeed, as Flicker wraps up, everything that's come before seems kind of pointless, for the decisions that Roland, Kenneth, Brigitta, Tord, and Jörgen make seem to be exactly what they were on the verge of doing when the picture started.  What little personal development that does occur comes out of nowhere, and for seemingly no reason (the Tord storyline, especially), and again: none of it seems like much of a leap considering where each of these people were at the beginning of Flicker.  As slick as the film looks, and as dedicated as each of the actors seems to bringing their translucent characters to life, the incomplete narrative and unfocused character development sabotages the few bright spots that remain.
Currently playing at this year's Seattle International Film Festival, Flicker constantly appears to be on the brink of something special, yet consistently fails to make the jump.  Plagued by characters that are underdeveloped at best, and shitty carbon copies of something original at worst, this Swedish dram-com. is one a person could skip, if only because they've seen most of this before, and better.