Warren Cantrell is at the 2012 Seattle International Film Festival seeing as many movies as he can and filing reviews and reports as he goes.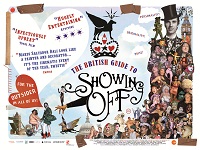 U.K. artist and sculptor Andrew Logan has acted as the veritable nerve-center of England's art scene since the early 1970s, a position he solidified after hosting the First Annual Alternative Miss World contest in '72.  Archival footage in director Jes Benstock's documentary, The British Guide to Showing Off, shows wonderfully grainy and scratchy footage of this first pageant, where wild eccentricity and bold transgender statements electrified a counterculture movement yearning for some sense of individuality following the MOD and hippie-drenched 1960s.
The British Guide to Showing Off is currently playing here at the Seattle International Film Festival, and is a celebration of Andrew Logan's mutant beauty pageant, one that's always rewarded its contestants for outstanding acts of courage and individuality.  As the film follows Andrew preparing for the 12th pageant in 2009, a brilliant series of collage-like montages unfold, assembled in a stop-motion picture animation style very reminiscent of Terry Gilliam's Monty Python work (it is a British doc, after all).  These montages provide a wonderfully layered and surprisingly detailed presentation of the U.K. artistic scene as it evolved right alongside Andrew and the subsequent Alt. Miss World contests.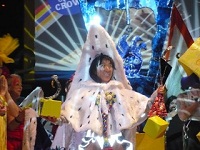 As the documentary jumps back and forth between an investigation of the pageant's development over the decades, and then back to Andrew's struggles in 2009 to see that year's contest arranged, there's a refreshing honesty that might have been excised by a less skilled filmmaker.  Indeed, the documentary is made stronger by the quick flashes of candor that appear in the segments, like one showing Andrew lamenting the financial burden of the contest, and how each one effectively bankrupts him (a big reason why they aren't held every year).  Another touching scene comes later on in the film, when Andrew talks about how he doesn't want to exclude any contestant from appearing in the 2009 show, and that while certain considerations limit the number of people allowed in, that he "Wants them all in…'till the very end."
When it is at its best, The British Guide to Showing Off demonstrates how the Alternative Miss World contest has pushed and challenged perceptions of beauty and spectacle in 20 and 21st century art.  Some especially fun moments include a highlight from the 1981 contest, when the Provisional Irish Guard performed as part of an act, and a victory a few years later by a fabulous fashion robot.  Admittedly, these were shadows humbled by the sun, which came in the form of the 2009 winner: Miss Fancy-Chance-Likes-Burritos-and-Facial-Scars.  Just as a point of reference, his/her pageant application stated that, "she dislikes gang-bang porn, and her hobbies are fishing and shitting glitter."  All of this history, from 1972 to 2009, represents a fascinating, living, breathing work of art that's clearly had a visible (and positive) impact on the growth and development of British pop culture these last four decades.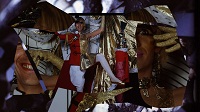 As delightfully engaging and fascinating as it is, there is an insulated component to the documentary that leaves a non-European (this particular reviewer, for example) feeling as if they are on the outside looking in.  Clearly, the Alternative Miss World competition has had a profound influence on Britain's evolving attitudes pertaining to music and fashion, something that clearly trickled out via the Glam and punk movements, yet how this affected the larger world is a question left curiously unanswered.
The Alt. Miss World competitions have been held intermittently since 1972, and have always acted as bold and defiant expressions of personal independence in the face of a stodgy British heritage that largely encourages compromise and conformity.  Enraptured as I was by the intriguing history of the competition and the gradual emergence of each new artistic movement, there seemed to be something missing: that magic bullet to connect all the wonderfully arranged U.K. dots to a larger LGBT or artistic movement outside of England. Though director Jes Benstock hauls out a number of important British mainstays like Brian Eno, Ruby Wax, Derek Jarman, and Duran Duran's Nick Rhodes, all of whom speak at length about Andrew Logan's influence on the English art scene, this is the limit of the documentary's scope.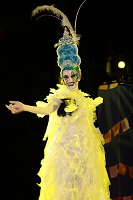 And that's too bad.  For a beauty pageant born amidst the turbulent waves of the 1970s LGBT civil rights movement, it seems only natural that there would have been some figureheads from the New York or San Francisco scenes testifying to the inspiration taken from Andrew and the Alternative Miss World competition across the Atlantic.  If nothing else, one would have expected to see leaders of the transgender, gay, and lesbian communities speaking to the influence Andrew and his contests have had on a new generation of artists and activists.  Clearly, as the film shows, this influence is felt in England; yet if this is something that hasn't translated across the waters, why not talk about that a bit?
Though discussions about Andrew's interactions with Warhol pop up at one point, this is the extent of such a discussion.  The documentary's tight focus remains on Andrew's grandest work of art (the competition), and the arduous nature of its development, both past and present.  In the end, the documentary successfully demonstrates how the Alternative Miss World contest is unflinchingly and wholeheartedly about art and spectacle, about the celebration of diversity and the inherent right of all people to express themselves freely. The fact that the pageant routinely crowns champions that are men as well as women, gay as well as straight, shows that the Alternative Miss World showcase is a truly special and unique event, one the documentary might have served a bit better if it had connected it to a larger, more global cultural web.
Still, like the Alternate Miss World contest, it was a hell of a lot of fun.