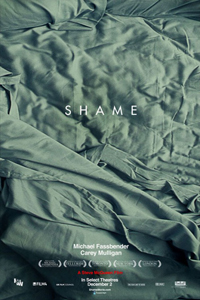 What planet did you come from, Michael Fassbender?
Seriously, how does someone go from being a smaller supporting actor just a few years ago to starring in commanding roles for some of hottest new and old-guard directors around? And, also being really great on top of it all.
Shame, director Steve McQueen's sophomore feature, tells the story of Brandon. This New York advertising exec and sex addict continues Fassbender's year of edgy and interesting performances, which have included Rochester in Jane Eyre, Magneto in X-Men: First Class, and Carl Jung in A Dangerous Method.
Brandon is detached and relentless in his pursuits of the flesh. It is a rhythmic routine that must remain devoid of emotion. Brandon shells out money in the evening, waits for his paid companion to leave once the deed is completed, and raises the blinds in the morning to shine light on the stark bedroom that is scant with colors other than grays and blues.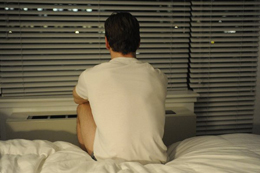 Michael Fassbender plays the role with unrelenting abandon. He must engage the viewer through his stoicism. It's all about subtle movements, even just the amount of time he looks at something before looking away becomes immensely important. This quiet film follows the predatory and self-destructive impulses of a man's addiction.
There is a ton of nudity in Shame. It earns its NC-17 rating. It's about a sex addict after all, but though there is a significant amount of sex either being shown or hinted at, it isn't eroticized. It always appears grotesque or unappealing. These moments further this emotional void. They are unassuming, passionless, and with and utter disregard for any sort of modesty. Passion could lead to attachment, and modesty may disrupt the established pattern and necessity of nakedness for the fleeting pleasure sought by Brandon.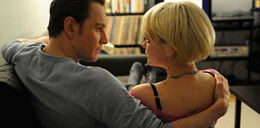 We know that Brandon cannot maintain this life uninterrupted by the outside world, and when Sissy (Carey Mulligan), Brandon's desultory sister, arrives unexpectedly for an undetermined length of time, we all can see the conflict quickly coming to the surface.
Steve McQueen uses the composition of his frame to set an emotional tone and force us to sympathize with Brandon. He is consistently the only character shown fully in the frame. Other characters are often out of focus, or only portions of their bodies are shown. These other people are landscape in Brandon's world and we engage with them much the same way as we would a building or street lamp. The same people that Brandon desires physically isolate him emotionally.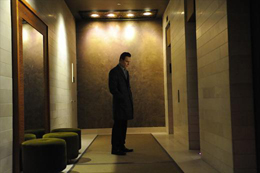 Only when Sissy comes to stay with Brandon does she get an equal portion of the focus and frame, and this is an invasion of Brandon's world, an interruption of his careful balance.
Use of color is also impressive. Everything is blue, gray, white or black. This super-controlled palette allows for subtle emphasis to be placed on various characters throughout the film. An example is the woman on the subway train (Lucy Walters). Everyone one around her is in some variation of McQueen's color palette, and though this woman is not in hot pink or lime green, the slightly purple hue of her clothing adds a warmth and visual interest. It draws our eyes, and we understand Brandon's gaze.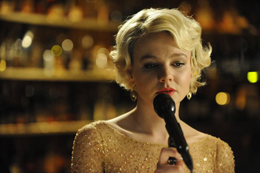 Carey Mulligan's performance is top notch. She is infuriatingly vulnerable as Sissy, who loves deeply and madly, but also becomes attached too quickly and to the wrong people. She is a perfect balance to Fassbender's stoicism. Both Fassbender and Mulligan crash into each other emotionally onscreen. Brandon and Sissy are victims of the other's excesses.
Shame is a brutal and unforgiving film. It shows the unraveling of a number of individuals in the most austere ways imaginable, and yet Steve McQueen gives us the smallest gesture of hope.
I won't ruin this punishing and beautiful film for you, but know that even in this barren landscape there may be the slightest reprieve from the emotional brutality that we inflict on ourselves, and those closest to us. The moment may be fleeting, and could easily be lost or overlooked, but isn't that the way it always is with hope?