Fresh off his Academy Award win for A Fantastic Woman, Chilean filmmaker Sebastian Lelio is back with his first movie in the English language, Disobedience. The film, about a relationship not only between two women and the bond they form as some of the trailers suggest, but also the bond of a grieving daughter and her deceased father, offers up questions of morality and faith in a very deep religious world that looks down upon those who step out of the comfortable norms.
Ronnie Curtis (Rachel Weisz) formerly Ronit Krishka, is a photographer in New York City. When she receives the news that her father, an orthodox Jewish rabbi, suddenly died she finds herself back in her old Jewish neighborhood in London. It's a place she hasn't returned to since she left years ago under circumstances not many wish to bring back.  Here with nowhere to stay, she boards with a childhood friend and student of her father's, David (Alessandro Nivola) and is wife Esti (Rachel McAdams). Slowly, the film encompasses that there is sort of an enigma around Ronnie. People are surprised she has returned after ignoring her father and family for years and she herself feels like an outsider when the possessions her father has left behind, go straight to the temple and not his only daughter.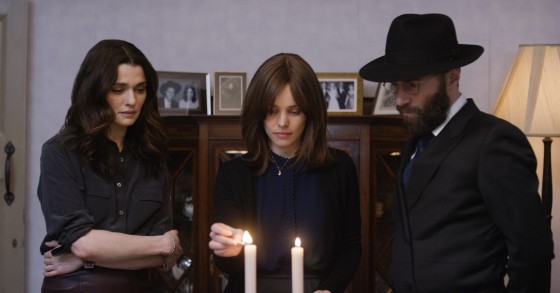 But why did Ronnie leave? This is the central question I found myself asking through most of this film. Clearly, from all the media advertisements you know that Ronnie is different. The film, never clearly presents this. She has had in her past, experienced an attraction to other females in her past, a lifestyle that isn't accepted in her orthodox religion. To make matters even more complicated, it is Esti herself that Ronnie had previously fallen for and slowly begins to fall for again.
I myself grew up in the Catholic faith so I can understand the idea of a same-sex attraction being so new to a religion and so frowned upon at times. Ronnie's new life is a 360 degrees from that of her past community. She doesn't wear a wig to cover her hair like the women in the community do (something I never knew was a thing and did research on), and she changed even her Jewish name to something more common for living in the United States. She brings with her this new sense of living in a world she no longer knows, and no longer is a part of.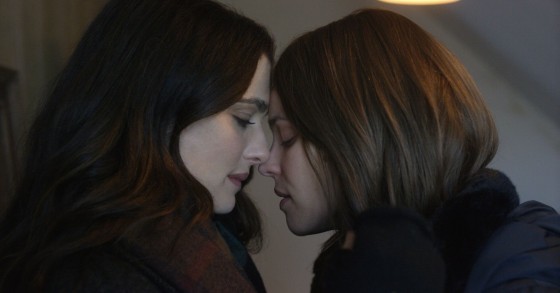 Slowly, even Etsi brings herself into Ronnie's world and explores herself form a meek school teacher to a women in love with another despite the punishments she could face. Enter a romance long in the making. Even David, though reluctant to bring Ronnie into his life, respects the fact her father has died and wants to at least include her into the community mourning.
Leilo's film is more than a lesbian drama, as many would probably call it. It's something different from the uber-popular Todd Haynes film Carol. It is a film more on the fact of religion being something that cannot hold people back from being true to themselves. Though Ronnie is an outsider, she returns and briefly wants into the life to mourn her father, expressing her true feelings for a past life that was at a time, seen as a moral evil, a disobedience of faith. Disobedience is in the grand scheme of things, something for the modern age. In an era where faith and sexuality still go at each other, it is the simple acts of falling in love and being true to yourself to be happy, that make a life even more worth living than anything.