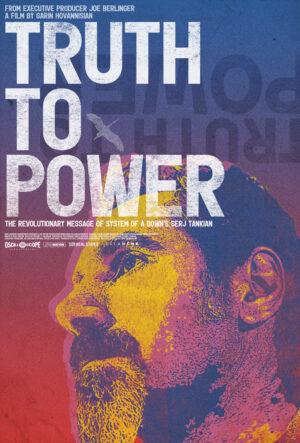 [Rating: Minor Rock Fist Down]
Out now in virtual cinemas and select theaters.
Writer/director Garin Hovannisian's Truth to Power, a new documentary on System of a Down frontman Serj Tankian, will likely entrance fans of the band looking to get an in-depth tale of the politically-active singer and musician, but anyone else in search of a focused tale will find the film desperately lacking.
"Millions fill stadiums across the world for the sound of Serj Tankian, the Grammy-winning lead singer of System Of A Down. With exclusive interviews, adventures, and original footage personally filmed by Serj, TRUTH TO POWER allows audiences backstage access to an international rock star whose faith in music not only revolutionized heavy metal, but also world events. Throughout his life, the musician has pursued social justice, harnessing the power of his songs and celebrity for real political change. Serj's voice is equally likely to take on American corporate greed as lambast the corrupt regime of his homeland. His decades-long campaign for formal U.S. recognition of the Armenian Genocide was finally approved by Congress in 2019.

Governments hate him. People love him.

Set to the propulsions of an original soundtrack composed by Serj, his critically acclaimed solo work, as well as the iconic music of System Of A Down, TRUTH TO POWER is also an artist portrait with a revealing look at the musician as he writes music—from inception to recording—and pursues ambitions outside of the band. It includes memories from legendary producer Rick Rubin on System Of A Down's early years and its unlikely breakthrough, the bandmates' candid insights about the splinters and highpoints for the group, and stories from Rage Against the Machine's Tom Morello on his bond with Serj as social justice advocates and their 'Axis of Justice' nonprofit."
That summary makes a lot of claims regarding Hovannisian's documentary, but the fact of the matter is that Truth to Power is woefully unfocused. At just shy of an hour and 20 minutes, it feels far longer, and plays like an extended promotional reel ahead of Tankian's new EP, Elasticity, due out on March 19. The documentary was partially produced by the singer's own Serjical Strike, and the end result means that you get a lot of Tankian sitting in L.A.'s Viper Room, discussing things and telling stories about things which happened.
The early parts of the documentary, which tell the story of Tankian's early life and the formation of System of a Down are impressively loaded with archival footage and audio of pre-SOAD bands, showing from where the singer came. His background is definitely important to the political nature of what will come later, but as with everything in Truth to Power, the focus always comes back to Tankian himself.
Even when other members of SOAD – notably missing is guitarist Daron Malakian – speak about the band and its rise to fame, it's mostly in conjunction with how Tankian quickly became the voice and image of the band, and whose own politics would come to define how they were perceived. While the whole of the group has a definite collective opinion regarding the Armenian genocide, due to their shared heritage, the other aspects of Tankian's political activism seem to have irked them somewhat, but while acknowledged and mentioned, it's never fully explored.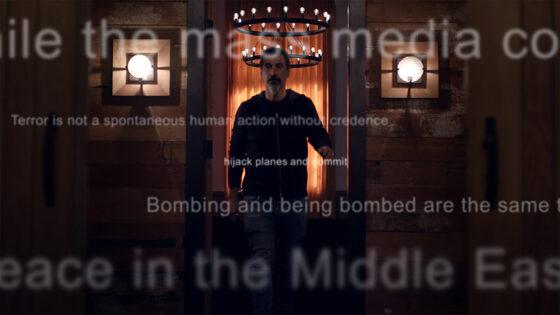 Also never fully explored is the Armenian genocide itself. While the resulting diaspora and how it resulted in the members of System of a Down coming together is mentioned, an actual, thorough explanation of what happened is never given. For something which is supposedly such a linchpin of the film, the most the viewer is given is that Ottoman Turks killed 1.5 million Armenians. That's it. No discussion of the death marches and forced deportations, or the executions which preceded them.
The treatment of everything ostensibly important as background to Tankian's story results in a mish-mash of footage, an awful lot of people discussing things, but nowhere near enough substantive material to justify this being feature length. The fact that Truth to Power begins with footage of SOAD playing in Armenia in 2015, then comes back to the same footage an hour later, in an attempt to show just how important the country is to this son of the country – while still not really explaining just why this is all so important in a historical context – feels like an attempt to wring some tears from those watching.
All of the material in Hovannisian's film is obviously very important to Serj Tankian. The singer gets emotional, nearly cries a couple of times, and really seems intense when discussing his music, his political work, and family, but it's just so much telling, instead of showing, that it never becomes important to the viewer. Why should we care about any of this? Just because Tankian does?
Maybe if Truth to Power had looked at the through-line that took an Armenian kid from the Middle East to Los Angeles, how that heritage affected his musical approach, how that musical career allowed him to take his personal story and use it to attempt to affect political change, and the possible results of that, then perhaps this documentary would be worth watching. Unfortunately, the disparate narrative threads are never connected, and the end result is that I'm sitting here, an hour and a half and 600 words later, wishing I'd spent my afternoon doing something else.