"Semi-Pro" is the new Will Ferrell sports movie. Set in the 1970s, it is the story of an over-the-hill basketball player who has an NBA championship ring—only now he's on his last legs, slumming it in Michigan with an ironically-named American Basketball Association team called the Flint Tropics.
The only problem is that particular character is played by Woody Harrelson.
There is an odd tug-of-war happening in "Semi-Pro." Jackie Moon, played by Ferrell, is presented as the main character from the beginning. He is a variation on the same man-child character Ferrell is so good at playing—obnoxious but naïve, and with a heart of gold. Jackie used the money from his unexpected hit disco single "Love Me Sexy" to purchase the bottom-of-the-barrel Tropics, and with the ABA folding in a year, he has until the end of the basketball season to save his sagging franchise from going with them.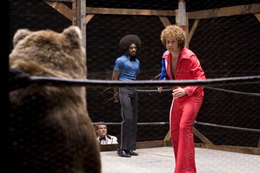 This sets up Ferrell for the same joke over and over again; as Jackie tries every desperate move he can to keep the team alive. Bear wrestling and jumping cheerleaders on a motorcycle may put people in the stands, but they won't make the team any better. Ferrell's character gets stuck in a rut for the remainder of the movie, so any growth in the story switches to Monix (Harrelson), who may be an NBA benchwarmer, but he's the closest thing to a real professional that the ailing Tropics have.
Any screenplay, even an absurdly strung-together comedy like this one, has to have character-driven forward momentum. Monix gets all of that, as he tries to rekindle a relationship with his ex (Maura Tierney) and tries to avoid her stalker-azzi new boyfriend (Rob Corddry, who has one of the funniest scenes in the film). Monix may take a cue from Crash Davis—Kevin Costner's washed-up catcher in "Bull Durham"—but his story isn't particularly involving, so most of the time he's onscreen we're just waiting for Jackie to come back and do something outrageous.
It should be mentioned that "Semi-Pro" is an R-rated movie. Ferrell's other sports comedies have veered close to adult humor before, but always retained that family-friendly PG-13. Not so here. Along with setting the movie in the 1970s, first-time director Kent Alterman takes advantage of the loose morals of the decade. It's kind of fun to see everyone smoking and talking about Swedish porn. Much of the dirty language seems forced, though, as if the actors were freed up by the rating and tried a little too hard to take advantage of it.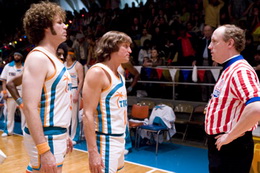 One thing about Scot Armstrong's script stands out. Its depiction of the American Basketball Association as an anything-goes kind of league is ripe with comic possibilities. Focusing the movie more on the wacky stunts that Jackie pulls to put people in the seats and less on actual basketball is a wise move. But it also puts too big a burden on Ferrell to make comedy gold out of rough outlines. For example, the bear-wrestling scene is funnier in theory. I can see the script now—"Bear attacks, Jackie screams for help." It's not exactly what you want from a setpiece scene.
Will Ferrell's genuine delivery makes the most out of poorly written and sketchily devised scenes like this, and it is too much weight for him to carry alone. But Ferrell is able to give Jackie a heart, and it's impossible not to like him, even if he is a one-note character. An ever-revolving door of comedy all-stars (including Mad TV's Andrew Daly, who steals every scene he's in as Howard Cosell-like sports announcer Dick Pepperfield) is hit or miss, offering Ferrell a variable amount of support.
There's nothing offensive about "Semi-Pro," but at a short 90 minutes, it still seems long, especially when it switches back to Monix's personal life. Alterman's timing is nowhere near as good as Ferrell's, leaving the movie to stand on its own as a haphazardly thrown together series of sketches rather then the "Slap Shot"-style potty-mouthed underdog story it wants to be.