Martin Scorsese already has one definitive rock concert film under his belt, and with his new Rolling Stones documentary "Shine A Light," which chronicles the legendary band's two-night stand at New York's Beacon Theater, he delivers another.
"Shine A Light" actually provides the perfect bookend to 1978's "The Last Waltz"—a movie that featured The Band performing at the top of their game with a bevy of guest musicians (including Neil Young, Joni Mitchell, and Bob Dylan) after an almost ten-year career. "Shine A Light," on the other hand, spotlights the timeless nature of the Rolling Stones' music and performance, and also succeeds as a poignant rumination on growing old. If you looked up the word "stamina" in the dictionary, there should be a still shot of the Stones from this movie to illustrate it.
What Scorsese was so successful with in "The Last Waltz" was capturing those small onstage moments between performers—the knowing looks, a flash of a smile, one musician giving another a cue—that make each night special. Thank God he persuaded Stones frontman Mick Jagger not to shoot their enormous record-breaking show on the beach at Rio de Janeiro in 2006. By bringing the nearly untouchable band to a smaller-sized venue, he brings the all-important connection between audience and band to the forefront.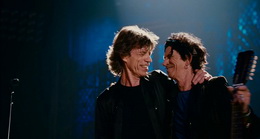 That doesn't mean, of course, that Jagger doesn't still strut the stage like a royal peacock with his head held high, presiding over his subjects. It just means that the 18 cameras Scorsese and his award-winning team of cinematographers employed to cover every angle of the event have captured tons of little personal moments and blown them up to IMAX-size proportions. When Jagger comes to the front of the stage early in the film, a man pulls out his cell phone to snap a more intimate stage photo than anyone from a Stones concert has gotten in a long time and the camera frames the shot so beautifully from behind the fan, you can just picture the joy on his face and almost see Jagger's image in the tiny screen.
Drummer Charlie Watts, who is shown in vintage interview footage still unsure of what his place in the band is, still looks like he's in on some joke we're not privy to. Either that or he's still marveling at his lead singer's voracious energy night in and night out with that sly grin of his. Guitarist Keith Richards has enough ramshackle charm for the whole band, and when he's not sloppily banging away at his instrument, he's leaning down to place a guitar pick right in the palm of a fan's hand. And guitarist Ron Wood comes across as the band's reliable workhorse, pulling off tight, energetic blues licks throughout the set.
"Shine A Light" is a perfect snapshot in time. The cultural significance of the band cannot truly be measured, so it isn't surprising to learn that one of the shows was a 60th birthday bash and charity fundraiser for President Bill Clinton. Scorsese doesn't try to obscure this fact—rather, he lets the band's polite meet-and-greet with the famous Clinton clan frame the evening. It's just another day for the world's biggest rock band, who will go on to sing about smoking pot and having sex with young girls. Unfortunately, this also means that the crowd in attendance was no normal group of working-class Stones fans. Tickets for the Clinton crowd reportedly cost at least $5,000.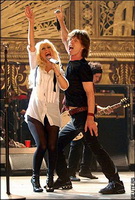 To remedy that situation, the group posted on a Stones Internet message board asking for trendy, sexy, hip-looking fans to be paid seventy-five dollars to be in the front section. Finding this out later in a New Yorker article made sense because I kept thinking during the movie that there were a lot of hot young women in that crowd, and many of them were suspiciously in the front row. Oh, the artifice of documentaries! Regardless, it's a good cinematic choice—nobody wants to see Jagger swinging his hips in front of Grandma, even if he is age-appropriate (he was 63 at the time of filming).
Like "The Last Waltz," there are several special guests in "Shine A Light." Current rock god Jack White's fanboy glee at sharing vocal and guitar duties with Jagger on "Loving Cup" barely outmatches his palpable nervousness at sharing the stage with his idols. Buddy Guy trades blues licks with Wood and Richards on an old Muddy waters tune called Champagne & Reefer," and Christina Aguilera (who looks great and keeps the "American Idol"-style vocal gymnastics to a minimum) duets with Jagger on "Live With Me," from 1969's seminal "Let it Bleed" album.
The set list is a rather unusual one for a band with more than one double greatest hits collection, but it works well because it feels fresh—the band is truly in the moment. Less than half of the 19 songs featured are big hits, and five of them are from 1978's "Some Girls" record. The band's "A Bigger Bang" tour that year found them pulling out all kinds of obscurities they hadn't played live in a long while, and many of those are in "Shine A Light," including "She Was Hot" from 1983's "Undercover" and "Far Away Eyes" from "Some Girls."
Scorsese returns to the theme of aging by presenting interview after interview through five different decades during the live set's in-between song breaks. It's a lighthearted look at people who've been asking the band when they'd hang it up almost since their inception. Richards says in one interview that he doesn't know why they keep going, but Scorsese answers the question more directly when he cuts back to more ferocious concert footage.
Seeing the movie in IMAX is a fantastic experience. The soundtrack is alive—it's mixed to accentuate whatever close-up is being shown at the time, and Scorsese's crack camera team has captured every possible angle to put you right there in the 2,800-seat theater. "Shine A Light" is a testament to the rejuvenating power of rock n' roll and further prove that it will never die.