The opening riff of the Rolling Stones' "Gimme Shelter," a song that oozes danger, plays under old footage of gang violence in South Boston.Irish mob boss Frank Costello spews racial slurs and vitriol in a menacing voice-over narration. He later shoots a woman point blank in the head.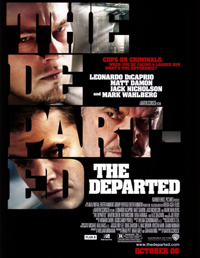 "She fell funny," Costello deadpans to his colleague, after her body flops to the ground. Welcome to the bleak and violent world of The Departed.
Director Martin Scorsese has returned to the dangerous Mean Streets that he first brought to life so dynamically in 1973 with a disturbing remake of the 2002 Hong Kong sensation Infernal Affairs. Unlike the sheen of Hong Kong's neon lights, however, the action is set in the barely lit bars and dreary backrooms of Boston.
Despite these decidedly less cinematic locales, Scorsese's film crackles with energy, from furious editing to knockout performances.
The storied director makes full use of said low-light situations to build up suspense when introducing his bad guy. Costello, played with inimitable heaviness by Jack Nicholson (acting in his first Scorsese film), is initially only seen in shadow. Since hearing his immediately recognizable drawl in the opening scene, we wait expectantly for his smiling face to light up, but Scorsese withholds it from us as long as possible, building up huge amounts of tension.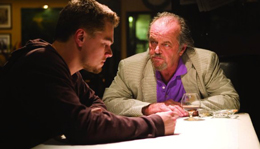 When we finally do get to know Costello, it is clear that the code of honor among gangsters is considerably different than it was in GoodFellas. Nicholson inhabits one of the most perverse and amoral mob bosses ever, and the iconic actor is clearly having a ball.
It is no mistake that this remake has been re-titled The Departed. The specter of death looms large from the beginning. A rookie cop named Billy Costigan (Leonardo DiCaprio) is assigned to go deep undercover and infiltrate Costello's gang. His late uncle had ties to the mob, and the cops put him in jail on a fake assault charge to give him some street cred.
On the other side, Costello has been grooming Colin Sullivan (Matt Damon) to become his inside man in the police force ever since he was a young boy. As it happens only in the movies, the two men whom Sullivan reports directly to are also the only two cops that know Costigan's true identity as an informant.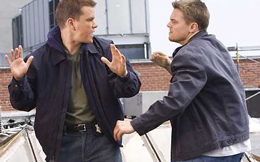 Screenwriter William Monahan, a Beantown native, has crafted a script with convincing detail and local color that add to the overall realistic feel of the movie. This is imperative because the plot machinations sometimes rely on the flimsiest of coincidences. The Departed is constantly drawing parallels between cop and criminal as both men are called on to test their loyalty to the other side under intense life or death situations. Costello sums it up: "When you're facing a loaded gun, what's the difference?"
Though plot developments like both men falling in love with the same woman do feel a bit forced, Scorsese does not rely on the twists of the script to keep our heads in the game. Rather, he's fascinated with the psychological damage that this kind of life can cause. Where Sullivan has hardened himself to the idea of being a double agent throughout his life, Costigan's motivation is more personal, as he looks to clear his family name.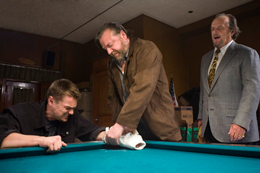 Like Little Miss Sunshine earlier this year, The Departed is elevated by the strength of performances so convincing that they smooth over the rougher edges of the plot. Playing mobster with a murderous psychopath takes its toll on Costigan, and DiCaprio perfectly portrays the everyday terror and desperation of a life lived in constant conflict. Damon has a cool, confident outer shell and Sullivan quickly achieves everything he thinks he's been entitled to, including a swank apartment that overlooks the State House. Both men's lives devolve into a hellish game where each informant struggles to expose the other first.
A cool classic rock soundtrack featuring John Lennon, Badfinger, Van Morrison and the Beach Boys filters in and out of the narrative seamlessly, while longtime Scorsese editor Thelma Schoonmaker works her magic. It is no small feat, having to condense the characters' long training process and even longer confidence-building trials with their new "friends." Schoonmaker not only makes it cohesive, but also infuses it with a desperate energy while never once sacrificing an ounce of important character work.
Apart from being a technical marvel, The Departed is also a bleak and terrifying study of the cyclical violence. Both sides of the law are intensely dedicated to seeing their team win, and the psychological toll on the main players is almost unbearable. The streets of South Boston are a battlefield, with soldiers in both armies losing their lives for an ideal that is corrupted and increasingly devoid of honor.
Scorsese's latest is an anti-war movie that is firmly dedicated to the idea that neither side of this war will ever be declared the winner.