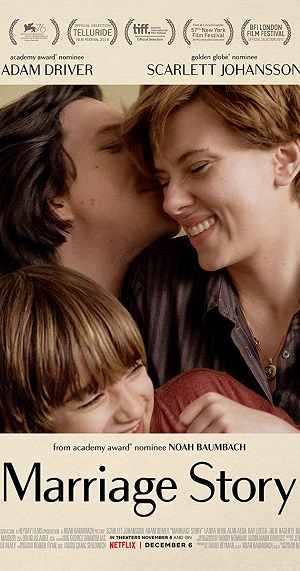 [Rating: Rock Fist Way Up]
Love and hate operate on opposite sides of a famously thin line, as they both require commitment and passion that draw from a very personal well of emotion. To hate with a purpose is to invest deeply in that person or object, and like love, this passion does not come easily. It should come as no surprise, then, that the explosion of a loving relationship should render debris that can quickly turn deadly: like the collision of celestial bodies that travelled in harmless elliptical orbits for centuries before colliding and forming deadly cosmic shrapnel. Writer/director Noah Baumbach looks at this relationship shrapnel in his newest film, Marriage Story, which examines how love spoils and transforms into hatred, yet somehow remains precious and worth guarding all the same.
Marriage Story opens with Nicole (Scarlett Johansson) and her husband Charlie (Adam Driver) in a mediator's office, preparing for a divorce that appears to be a foregone conclusion. The mediator has asked both to write out lists of things that they admire about each other, and while Charlie is willing to indulge with his, Nicole can't bear to read her's. The chasm between the two has grown too wide for her, and she's decided to take the pair's son, Henry (Azhy Robertson), to Los Angeles for an extended break while Charlie stays in New York to continue work with his theater company.
Nicole is an actress and has an opportunity to star in a T.V. show in L.A., and while Charlie's theater directing had kept her from accepting something like this in the past, their split and Nicole's family out west offers a soft landing for her and Henry. Although Charlie and Nicole had agreed to an amicable, passive break-up without lawyers, Charlie's insistence that Henry eventually return to New York prompts his wife to get representation. Naturally, this prompts Charlie to get his own attorney, turning an already tense situation between the two into a full-throttle battle.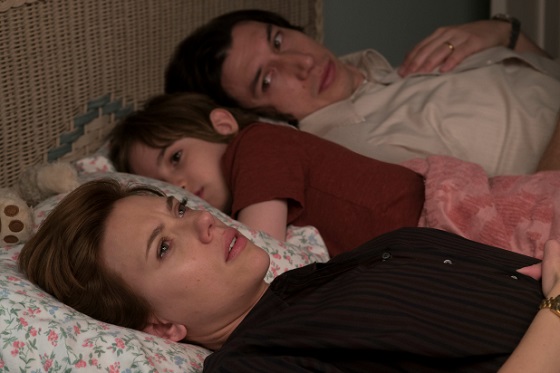 Baumbach is no stranger to this terrain, having mined divorce (The Squid and the Whale) and general family dysfunction (Margot at the Wedding & The Meyerowitz Stories) before, yet he's going extra deep with this one. It would have been easy to make this film about the petty grievances and backstabbing that pop up in any divorce (this one included), yet it is love, not hate, that drives this narrative forward. Love isn't easy, though, and it sure as hell isn't as straightforward as most would hope it to be, and that's what's on display in Marriage Story.
On the one side, there's Charlie, who desperately wants to remain in his son's life, yet can't seem to balance his professional aspirations against his paternal obligations. A Halloween scene midway through Marriage Story illustrates this marvelously, for while Charlie's passion and enthusiasm puts him in a great position to enjoy the holiday with his son, his inability to reconcile the realities of Nicole and Henry's new life in L.A. blind him to what his child really needs in that moment. Likewise, while Nicole has every right to fight for her new career and Henry's place at her side, the residual anger from her former life in New York often escalates an already tense situation and punishes her -ex for sins long since passed.
Baumbach is careful not to allow the script to swing in either spouse's favor for too long while still offering plenty of fodder for the attorneys of both to argue against the other. Nicole has a cutthroat lawyer, Nora (Laura Dern), who has seen all the tricks, and will stop at nothing to "win" for her client, while Charlie vacillates between a like-minded $900/hour courtroom shark, Jay (Ray Liotta), and the soft-spoken, family-minded attorney, Bert (Alan Alda). As bad as things get between Nicole and Charlie one-on-one, things become exponentially more damaging when the trained professionals go at it for them, and once again, Baumbach is careful to keep the blame for all of this shared equally between both parties.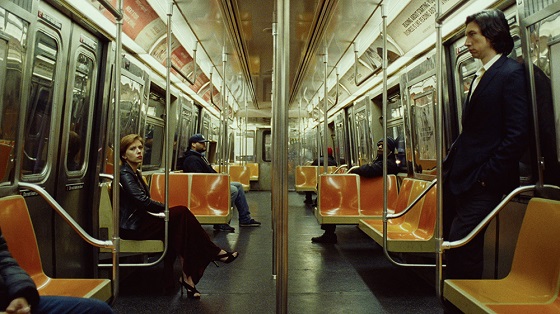 Where Baumbach stumbles, and even then, only slightly, is with the pacing of Marriage Story, which moves nicely through its first two acts, yet stumbles a bit during the back half of its third. At 135 minutes, the film is about 5-10 minutes too long, a harmless hiccup that only really becomes apparent when the film halts in its tracks to allow Adam Driver time to sing a song near the end. Even this is understandable, though, for he and Johansson are so goddamned good in Marriage Story that one cringes at the thought that any of their magnificent work could have hit the cutting room floor.
Robertson is also superb as the marital bargaining chip upon which most of the film hinges, and like his work in last year's criminally underseen Juliet, Naked, the young man exudes a quiet confidence that never feels overshadowed by the performances of his more seasoned peers. This is important, too, as Marriage Story isn't about hate, but rather the love that binds two incompatible people together for the greater good of an innocent bystander. If Nicole and Charlie hated each other without reservations, there wouldn't be a story, here; this film's greatest strength is its insistence that there is room for true affection and love in the aftermath of a break-up, yet only if those involved can get out of their own way to find it.