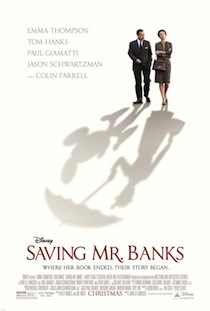 Disney's new film Saving Mr. Banks alternates between compelling and troubling. Its parallel story lines and characterization of the manipulative and fatherly Walt Disney (Tom Hanks) make it a slightly entertaining mess.
The problems with Saving Mr. Banks start with Kelly Marcel and Sue Smith's script. They structure the story around two parallel story lines. The first follows P.L. Travers (Emma Thompson) as she argues with Walt Disney over the film rights to Mary Poppins, Travers' beloved 1934 children's novel.
The other storyline follows a young P.L. Travers, still Helen Goff, as she moves with her family and alcoholic father, Travers Goff (Colin Farrell), to remote Allora, Queensland, Australia. Helen watches as her endearing and playful father struggles to keep his job as a banker and succumbs to alcohol and influenza.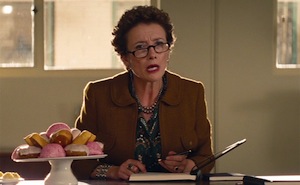 Though the childhood storyline is intended to show the inspiration for Mary Poppins, it does not fit tonally with the story of the curmudgeonly P.L. Travers at odds with the effusive Disney. Much more a heartwarming comedy of compromise and redemption, the feud between Travers and Disney, is at odds with the tragic coming of age story that focuses on the loss of a father.
It is not just the tonal conflict between the two stories that is worrisome. When each narrative is interwoven, Travers Goff and Walt Disney become strange fatherly foils for one another, a fact that Disney is all too willing to exploit for his own gain.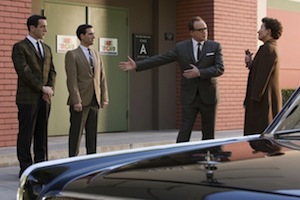 All of the dark parallels would be more apparent if not for the power of the moments spent in the writers' room at Disney Studios. The creative conflicts between Travers, writer Don DaGradi (Bradley Whitford), and songwriters Robert and Richard Sherman (B.J. Novak and Jason Schwartzman) are fascinating. These moments offer great and subtle insight into an artist who is attempting to protect her original creation, and those who have been tasked with adapting that work for the screen.
The moments between Bradley Whitford and Emma Thompson are great. Each of their characters is stuck in a precarious position and the actors pluck each other's tight ropes with a staunchly suppressed glee.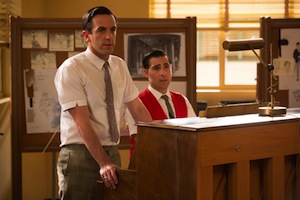 With the vibrancy that comes from the scenes in the writer's room, perhaps that should have been the sole focus of Saving Mr. Banks. The story of the artistic conflict and compromise that created a classic film would have been a better story, but lacks the emotional gut punch of watching a little girl's daddy die.
Unfortunately screenwriters Marcel and Smith opted for the easy emotional appeal and ruined what could have been an entertaining film.