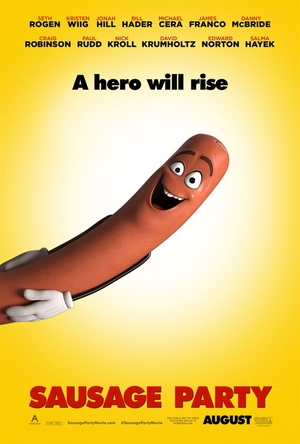 [Rating: Minor Rock Fist Down]

Have you ever wanted to sit around with 16-year-old Seth Rogen and his stoner buddies and watch them take bong hits, get drunk and ponder the correlation between religion and food orgies?
Welcome to Seth Rogen's Sausage Party, which is something you really never, ever want to hear. EVER.
Sausage Party is yet another dumb stoner comedy from Rogen and his idiot friends. Don't get me wrong. There's nothing at all wrong with a good stoner animated comedy. We need these, I get it. But this feels like something these boys would have done years ago. Aren't they past this phase in their careers yet?
Set mostly in a grocery store, your main characters are a hot dog (voiced by Rogen) and a bun (Kristen Wiig). Their goal is to "be selected", i.e. be purchased by a human, where they will be taken to the "great beyond" — their heaven, so to speak — where they will be able to fornicate. When a bottle of honey mustard is returned, he spills the beans about "what really happens to food", which sends a hot dog, a bun, a bagel on a quest to free the groceries from the slavery of their beliefs. They're being hunted by a roided-up douche bottle (seriously, I wish I was making this up…even if I was, I wouldn't make THIS up.)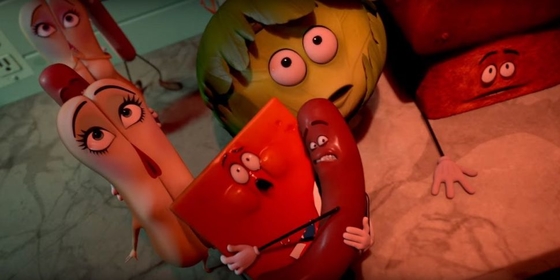 Basically there are two jokes at play here. The obvious is the old "weiner in the bun" joke that seemed clever when we were….12. The other being that you're a moron for believing in God, heaven, an afterlife, etc. Every religion is an easy target for stereotyping, to the insults are all-inclusive. These jokes repeat themselves for nearly 90 minutes.
It's easy to laugh at. There's no reason to take any of it seriously, or personal. But, the best jokes come when the food characters realize what their real purpose is — to be mutilated, butchered, murdered and eaten by humans — and those moments are all featured in the trailer. All of Rogen's cohorts are on hand — Jonah Hill, James Franco, Danny McBride, Michael Cera — so, it's fun to match the voice to the food item (there might be a good drinking game there…maybe there IS a point to this movie. hmmmm.)
Sausage Party is every bit the mindless, immature, vulgar movie you think it is. If you're not in the mood for a stoner debate on religion, move along, but if an animated food orgy is what's been missing from your summer — and after this trainwreck of a summer movie season, maybe it's just what you need — but I'd at least wait until you can watch it at home with all of your idiot friends, alongside your trusty bong and a good six-pack.