How does a film, which has a critically lauded director, an Academy Award winning writer, and a handful of very talented British actors and actresses, fizzle to a thin and mediocre flatness? Watch Salmon Fishing in the Yemen and you'll see how.
Director Lasse Hallström, the overly sentimental champion of What's Eating Gilbert Grape, Cider House Rules, and more recently Chocolat and Casonova, adds awkward, intended-to-be-edgy visual flourishes to an uninspired script from Simon Beaufoy, who won the Academy Award for Adapted Screenplay for Slumdog Millionaire. Even the charm of Ewan McGregor, Emily Blunt, and Kristin Scott Thomas cannot add enough vibrancy to this lack luster offering.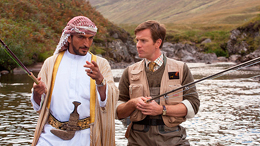 Dr. Alfred Jones (McGregor), a fisheries expert with a penchant for North Atlantic salmon, is called upon by Harriet Chetwode-Talbot (Blunt), a British representative of a Yemeni sheikh, to explore the possibilities of stocking a river in Yemen with the sought after sport fish. The eccentric Sheikh Muhammed (Amr Waked) wants to bring salmon fishing as well as agricultural prosperity to his people.
In spite of Alfred's many exasperated exhalations and insistence that salmon cannot survive in the desert clime of Yemen, the project becomes a top priority once it is flagged by Patricia Maxwell (Thomas), the public relations officer to the Prime Minister, after the accidental destruction of a mosque by British forces.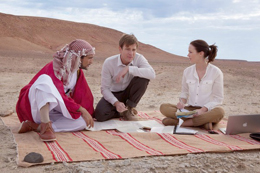 Alfred and Harriet are thus thrown together, chasing a fantasy in the Yemeni desert. Luckily Alfred is in an emotionally stale and loveless marriage, and Harriet's military boyfriend is missing in action. This makes them both available to each other, right?
The impossible task mirrors the unlikely possibility that these two, Alfred and Harriet, will end up together, and yet because of its utter predictability, the screenplay has all of the urgency of a field left to fallow.
Hallström attempts to pep up the yawn-inducing script with his visuals, injecting occasional deep low angle shots, video camera-ish footage, and a split screen device that could have been lifted straight from 24.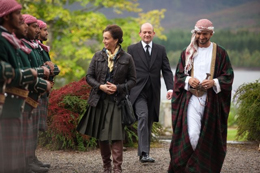 All of these devices are so infrequently employed that they rupture the narrative when they are used, and each feels forced and unimaginative. The split screen in particular is truly misguided, because the scene involves 3 to 4 shots of Maxwell on her cell phone. Is this supposed to illustrate that this woman is busy or just really likes her mobile device? Either way it is a high impact visual technique that underlines a low impact action, and not in a funny or ironic way.
McGregor and Blunt do what they can in their roles. Never did the performances feel phoned-in, but the appeal of these two just isn't enough to shove this Sisyphean bolder of a film up and over its hill.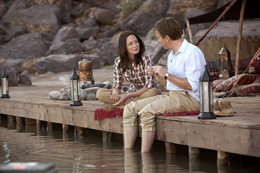 Amr Waked is a particular casualty of Salmon Fishing in the Yemen. He gave development and weight to a character that does little more than motivate a romance between two Brits. It is a shame that his entrance into contemporary Western cinema comes in such a dull and colonial fashion.
My wife suggested that this film could be summed up in one sentence. "Ewan McGregor and Amr Waked have pretty eyes."
This one sentence illustrates the vacuous and predictable nature of Salmon Fishing in the Yemen and the hope that its actors' appeal will save it. If that is what you need for some non-invasive entertainment on a date night, Salmon Fishing in the Yemen might work for you.