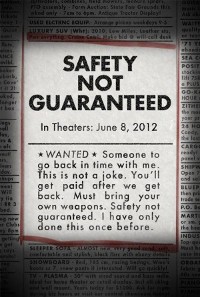 Time travel stories are tricky and the number of movies that intelligently discuss the topic are outnumbered by hundreds that don't (for proof look no further than the pathetic likes of The Time Machine, Timeline, Black Knight, Freejack, and the truly awful adaptation of Ray Bradbury's A Sound of Thunder). Thankfully, director Colin Trevorrow's Safety Not Guaranteed doesn't fall into this category. Instead, it produces one of the year's most unexpected and memorable films.
Seattle Magazine reporter (Jake M. Johnson) sells his editor (Mary Lynn Rajskub) on the idea of doing a puff piece on a man  (Mark Duplass) who posted a classified ad looking for a companion for time travel. Roping in two interns (Aubrey Plaza, Karan Soni) to do the actual work, Jeff heads to the coast for his real purpose of a paid vacation and reconnecting with his teenage girlfriend (Jenica Bergere), but the story the threesome uncover turns out to be far more interesting than they expected.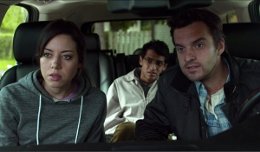 The reporters track the ad back to Kenneth, a paranoid grocery store clerk who is convinced he can travel back in time to save the love of his life (Kristen Bell). While Jeff spends his time reconnecting with a lost love, and trying to get Arnau (Soni) laid, Darius (Plaza) goes undercover training to be Kenneth's potential time-traveling partner and trying to uncover what's really going on.
The depressed Darius soon finds herself falling for a man who runs military drills in his backyard and believes he can build a time machine. She even finds herself getting pulled into a robbery of a medical research company and sharing her story of personal loss with a man who everyone refers to as "a little off." More than anything she wants Kenneth's story to be true, and the fact that real government agents are following him certainly leads credence to his story.
As someone who doesn't watch Parks and Recreation, my experience with Aubrey Plaza has been confined to small roles in films like Scott Pilgrim vs. the World. Plaza is perfectly cast as the moody, disillusioned, pessimistic twenty-something who wants more than anything something, and someone, to believe in.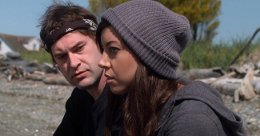 Jake M. Johnson gives us a Jeff who's more than the one-dimensional asshole he portrays to the outside world (although it's his asshole nature that provides several of the most amusing scenes in the film). Soni's Arnau is a little more one-note as the shy and nerdy Indian, but even he gets his moment to shine when Jeff arranges a special night for his "new best friend." Even Kenneth, the paranoid loon, proves to have amazing depth and generosity.
Safety Not Guaranteed is a quirky film about finding the story behind some guy who is obsessed with time travel, but the heart of the film is really about four lost individuals, all looking for meaning in a world that's done it's best to beat the hopefulness out of them.
Written by Derek Connolly, the script doesn't fall into the pitfalls of a typical Hollywood sci-fi movie. With a couple of nice twists and turns it keeps the audience guessing as to the truth of Kenneth's motivations and his invention before providing a perfect ending (which may piss off at least a few mainstream moviegoers) that allows viewers, much like Darius, to decide the truth for themselves.