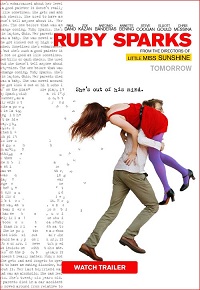 Calvin Weir-Fields, a novelist suffering through writers block, seems to have fallen into a hopeless creative slump. Given an assignment from his therapist in an attempt to spark his mind, results in not only a good story, but a real-life human being.
Paul Dano plays Calvin, a child prodigy novelist that never finished high school. Being said to have created the next American classic, Calvin is living off of his early wealth, finding daily that he is unable to create anything worthy of his high standards. In a desperate attempt to create, Calvin writes of a girl he met in a dream. It is here that we meet Ruby (played by Zoe Kazan). Because Ruby is a figment of Calvin's imagination, he creates her exactly to his standards. While it has inspired Calvin to write again, he begins to become troubled with the fact that he seems to be falling in love with a her, a fictional character.
Innumerable pages later we find that Calvin is still in love with Ruby. Artifacts of women's clothing, among other things, begin to appear in Calvin's house. These artifacts are ever increasing until one morning when Ruby herself appears in the house. Calvin has created a girl exactly to his standards, and has unknowingly willed her into existence. With great power comes great responsibility, and Calvin finds that, though romantic, his new found ability comes with a catch.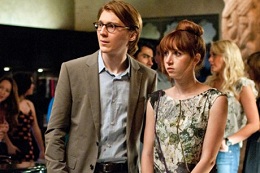 The writing in this film was flawless. I really appreciated that Zoe Kazan (also playing Ruby) wrote the script straying away from being a strictly formulated cutesie romantic comedy. When one thinks about it, being able to control a person by conveying their actions into a typewriter is rather dark. It is with this darkness that Kazan weaves the story into something that sucks the viewer in.
With my extreme love for this film, directed by Jonathan Dayton and Valerie Faris, the only real issue I could find with it was that the middle seemed slightly drawn out. Once we meet Ruby, it takes a while to get along to the next plot point, but this wait pays off with a hugely suspenseful climax.
Again, straying from the expected, Kazan writes to leave the viewers hanging. The decline leaves you feeling bloated with discontent and the film ends somehow unsatisfactorily. The ending felt a lot like Eternal Sunshine of the Spotless Mind.
I was personally excited to see Paul Dano in another film, and found Zoe Kazan remarkably charming. Ruby Sparks has everything I wanted it to have, and it is for all of these reasons that I give the film a solid rock fist up.