If you had to pigeonhole it, you could certainly call "(500) Days of Summer" a romantic comedy. It's got its fair share of romance and, at times, it can be pretty funny. But it more often than not, the movie does what other romantic comedies can never seem to do convincingly: It celebrates those special little moments that two people can share together, whether those moments end up creating a substantial and long-lasting relationship or not.
In this case—and I'm not ruining anything since it's given away in the first scene (and the title)—this relationship doesn't last.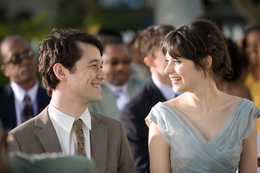 What makes "(500) Days" unique is that it is told entirely from the point of view of one character (aside from some troublesome offscreen narration) who believes in the kind of true love you see so often at the movies. In fact, young greeting-card writer Tom (Joseph Gordon-Levitt) is such a hopeless romantic that he thinks the ending of "The Graduate" is a buoyant one.
Summer (Zooey Deschanel), on the other hand, can see mistrust and uncertainty in Dustin Hoffman and Katherine Ross' eyes. A screening of the classic 1967 movie leaves Summer in a funk and Tom wondering what the hell is wrong with her. This difference in worldview is part of the reason that the couple fails. Summer puts up a wall so big that Tom believes he's cracked it—when, in fact, he's only made a dent.
To avoid the pitfalls of the embarrassing pap that passes for rom-com these days, screenwriters Scott Neustadter and Michael H. Weber have filled their story full of storytelling devices such as splitscreen what-ifs, flashbacks to numbered days, a musical number, and specific pop-culture references. Mostly, the gimmicks work—because the actors and the central idea are so strong.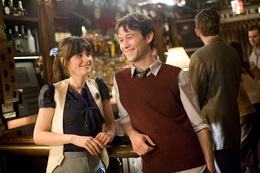 Deschanel lends a great amount of mystery to Summer. She's the woman of Tom's dreams and a completely unknowable person all at the same time. Her cynical nature about long-term anything causes her to set up impossible parameters for Tom that allow her to squirm out of anything too serious. She says it's to avoid getting hurt, but who knows why people do what they do? Her aloofness and temperamental quality only add to the attraction Tom feels for her.
Because the story is told out of order, we know that the couple will eventually break up. Finding out exactly how is what provides the film with its forward plot movement. Despite some rough patches along the way (Tom's friends range from unfunny to mildly annoying, his creative awakening is telegraphed from the first scene, and his post-breakup behavior has all the clichés of the genre it's trying to stand apart from), "(500) Days of Summer" has a surprising payoff.
Seeing the story from Tom's point of view only reinforces the idea that true love is in the eye of the beholder and that there will always be another opinion that matters equally.