"Our generation was about identifying the authentic." – Suzi Gardner, L7
In the new documentary L7: Pretend We're Dead, director Sarah Price explores the rise and fall and rise again of grunge rock band L7 through interviewers with the founders and the bands who knew them best. L7 was founded by Suzi Gardner and Donita Sparks who tell their story described as "rags to riches to rags."
This band, which also included Jennifer Finch and Demetra Plakas, would help change the image of female rock bands of the late 1980s and early 1990s and pave way to worldwide recognition and great acclaim.
This documentary feels like a love letter to the band. Price never uses actual talking head interviews of either Gardner or Sparks, but instead lets them simply tell their story as if they were goddesses rocking out to a whole different beat. She also includes never-before-seen and also rarely seen footage from concerts and television appearances L7 participated in in the 1990s.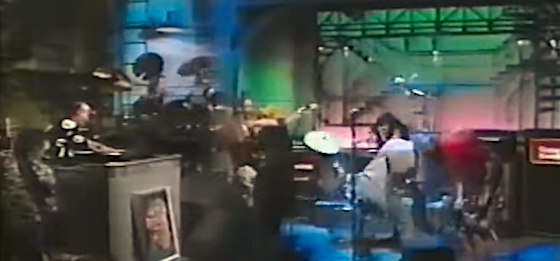 For somebody like myself, watching this documentary and having zero idea as to the world of rock or grunge bands, I actually found myself enjoying it. I like stories that unintentionally become timeless to different generations. In this film, the women talk about the obvious misogyny they received as a girl group in a predominantly male-driven music genre. Looking at this from a perspective in 2016, their drive to be on equal playing fields with their male counterparts honestly never went out of style. All L7 wanted with their music was the passion they had and the respect they felt they deserved.
Overall, L7: Pretend We're Dead is a gift to music lovers of a time long ago that surely hasn't been forgotten — a time of big hair, ripped clothes and hard-rock music with messages that carry over to today. The film shows the final fall of the band in 2001, but later flashes forward 13 years later to 2014 when, after social media became a part of everyday life, the band was able to resurrect and live on making it possible for this film to be made for the band.
L7: Pretend We're Dead is showing Saturday Sept. 23 and Mon. Sept. 25 at Screenland at Tapcade.