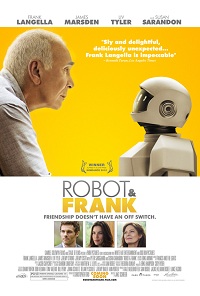 Robot & Frank isn't the kind of film that will surprise you.
The story about a grumpy old ex-jewel thief with early-onset Alzheimer's who learns valuable lessons about life, friendship, and family is fairly predictable, and more than a little schmaltzy.
Frank Langella stars as Frank, a thief who spent the better part of his offspring's childhood in prison, creating a resentful son (James Marsden) and a loving absentee daughter (Liv Tyler). Unable to give his father the daily care he needs in the New York wilderness outside the small town, his son comes up with a solution – a personal robot.
Although initially resistant to the idea, Frank begins to soften to the robot (voiced by Peter Sarsgaard) when Frank sees the potential to use his criminal past and the robot's skills to resume his life of crime. As you might expect from a film like this, Frank begins to see the robot as more of a friend than a tool and the robot proves to be far more human than Frank, or the audience, is initially led to believe.
Langella's performance and the offbeat take on the film's rather well-worn themes are really the only reasons to seek out Robot & Frank. However, they prove to be enough.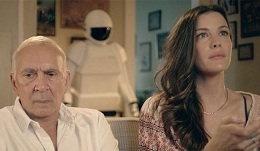 Langella is terrific in a role of a man constantly frustrated by his slipping grip on reality but still cognizant enough to take advantage of those around him for his own ends. Even in the end, the robot is far more likable of the pair.
The movie also includes a subplot about Frank's love of the old library which is slowly being fazed out and re-imagined into a learning experience, and his infatuation with the building's sole human librarian (Susan Sarandon). Screenwriter Christopher D. Ford stumbles a bit with these bigger themes, and gives us a late twist involving Sarandon's character that only adds unnecessary distraction.
When the script sticks to the relationship between Frank and his robot or Frank's ability to manipulate everyone around him into doing exactly what he wishes, the film works far better than when it gets off on tangential storylines involving his children, the library, or the lucky yuppies (Jeremy Strong, Bonnie Bentley).
Those seeking out Robot & Frank are likely to get exactly what they expect, no more, no less, but for longtime fans of Frank Langella (or those desperate for anything even remotely sci-fi), it's enough.