I'm not one to get hung up on silly plot devices—as long as there is a very good reason for them.
In Christopher Nolan's remarkable backwards-time thriller "Memento," you have to accept that Leonard Shelby (Guy Pearce) has a short-term memory and loses everything every ten minutes or so. That makes it pretty difficult to discover who murdered his wife. By the end of the movie, however, what he ends up doing is learning about himself, and he doesn't like it so much. It becomes easier to accept the unlikely concept that the film relies on when everything surrounding it is so clever and the movie enlightens you by its conclusion.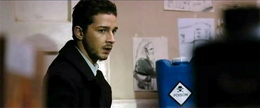 When your movie is essentially ripping off "2001: A Space Odyssey" and "WarGames," however, it is not as easy to forgive.
The way our main character in "Eagle Eye" is framed to look like a terrorist is the first in a ridiculous series of wholly implausible events you must accept to enjoy the film. One series of bizarre circumstances after another plague copy-store clerk Jerry Shaw (Shia LaBeouf) after his twin brother's death, and soon he finds himself on the run from the law, taking orders from a mysterious female voice on the other end of a cell phone—even if it's not his. Or a pay phone. Or an intercom system. Actually, this omnipotent villain is able to tap into any and every major modern communication device available, such as electronic billboards and security cams, to spot Jerry's whereabouts and tell him what to do next.
If "Eagle Eye" had explored the cloudy ethics of this Orwellian nightmare territory any further, it might have been OK to keep stringing together one convenient circumstance after another. Instead, the screenplay, penned by four credited screenwriters, is content to use its set-up only to throw one mediocre action scene after another at the audience. Director DJ Caruso, however, is no Steven Spielberg (one of the film's producers and the man whose idea 15 years ago spawned it). He wants you to identify with Jerry and the divorced mother (Michelle Monaghan) who ends up fleeing with him, but in order to stage an effective action scene, there has to be more than noise and explosions.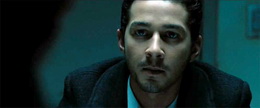 First, we need to know what's at stake for the characters and be able to see specifically what is in their way. When that assault could come from anywhere (as manipulated by the evil lady voice), it's a bit harder to identify what is happening. When we don't know where our heroes are spatially in regards to the cars that are chasing them and the electronically-controlled threats that Big Sister keeps throwing at them, it becomes impossible to regard a fast-paced car chase as anything more than a series of impressive crashes and explosions that have little to do with our protagonists.
And we know they will get out alive (because nothing in the story ever suggests that we should expect the unexpected), so there's really no suspense to any of this.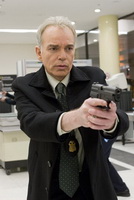 Billy Bob Thornton is completely wasted in a role that requires him to do nothing more than look pissed off, order people around, and take a silly ride on a labyrinthine factory conveyor belt, in one lame Indiana Jones/Rube Goldberg-inspired sequence. And poor Rosario Dawson and Michael Chiklis (so good on TV's "The Shield," but unable to find an interesting movie role so far). Their roles are so underwritten, they could be anybody.
In the end, "Eagle Eye" makes a weak stab at some social commentary about terrorism anxiety, constant surveillance, and our modern reliance on computers. But it's nothing that hasn't been explored deeper and frankly, more interestingly, elsewhere. In fact, since it is plainly obvious that the movie's priorities lie not with its message, but with its lightning-fast pacing and confusing action scenes, it's insulting when these ideas are shoehorned in half-heartedly.
What's worse, when all is revealed (and believe me, it's a stretch), you may find yourself wondering if—even in the context of the film's premise—it was all worth it.