Hollywood trailers run the stylistic gamut, just like the films they advertise. On that rare occasion a trailer, like the first theatrical teaser for "The Fellowship of the Ring," gives you just enough to drive you absolutely insane with anticipation and unquenchable curiosity. Other trailers like the mysterious "Cloverfield" (the J. J. Abrams water-cooler topic-of-the-week) trailer, just eats away at you and leaves you wondering if the payoff can come anywhere close to matching the hype. However, most trailers land somewhere in the bottom or middle of the spectrum, right between "who cares" and "why in the world should I go see this movie, I've just seen the whole damn thing in the trailer."
Consequently, the trailer for "Resurrecting the Champ" is most certainly a summary of the character-driven drama. It is one that serves as a "Cliff's Notes" of the film and had me assuming there was little left to discover by screening the film. I was pleasantly surprised to find I was wrong.
The trailer did contain the lion's share of the plot and more than hinted at what might be considered a twist, but the film had something that couldn't be contained in the ad's brief running time. The true surprise in "Resurrecting the Champ" was a soulful center, something absent in all but the most expertly crafted and truly fortunate of Hollywood creations.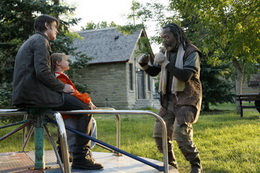 Fledgling sports writer Erik Kernan (Josh Hartnett), struggling for respect and recognition, gets in over his head when he pitches a story about a homeless boxer to a magazine editor during a job interview. As Kernan scrambles to make good on his pitch and hide his moonlighting efforts from the editor he already works for, he develops an unlikely friendship with The Champ (Samuel L. Jackson), a streetwise transient claiming to be former boxer "Battling" Bob Satterfield. After coaxing The Champ to tell his story, Kernan hurries the feature to print on the cover of the Denver Times Magazine and becomes an overnight journalistic success. Amidst a flurry of accusations, Kernan is rocketed back down to infamy on Earth just as quickly as he had ascended to fame. Kernan's reputation and that of his legendary father, a sports commentator, hangs in the balance. As does his rocky relationship with his estranged wife and mother of their only child, a six-year old boy named Teddy.
Inspired by events in the real life of reporter J.R. Moehringer, "Resurrecting the Champ" screenwriters Allison Burnett and Michael Bortman ("Rain Man") along with the cast and director Rod Lurie ("The Contender"), reach into the character drama grab bag and come out with a few powerful universal truths. Hartnett's Kernan is a flawed young father, a highly believable character who will resonate with dads young and old as well as with men for whom fatherhood awaits. All fathers are to some degree tortured by the desire for their children's love and approval– classic literature hasn't been fixated on this subject for centuries for nothing. "Resurrecting the Champ" is, at its core, a lovely story about fathers and sons.
Hartnett gives the first exceptional performance of his career as Kernan. The writer's humiliation and despair are poignantly depicted in a scene where the now defamed Kernan attends his son's elementary school on career day, only to witness his child's disappointment and devastation as his classmates take Kernan to task for his inadequacies as a journalist and as a father. This isn't an isolated incident as Hartnett shows off previously hidden acting chops in numerous scenes throughout.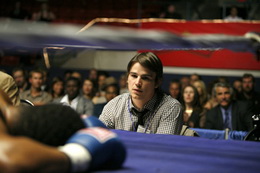 Hartnett is surrounded by a supporting cast of real-life heavyweights including David Paymer, Harry J. Lennix, Peter Coyote and the ever-better-with-age Alan Alda. Co-star Samuel L. Jackson performs more than admirably through heavy make-up, breathing both humanity and vulnerability into The Champ.
The last boxing movie I recall watching was "Million Dollar Baby," a perversely over-appreciated film that failed to tell the truth about human nature. It lost me by resting its plot on stereotypes and drowning its credibility in thinly veiled references to contemporary incidents and issues. "Resurrecting the Champ" doesn't get stuck in the mud looking for a political issue to flog or a moral ideology to preach.  Instead, it is an even-handed character study of one man and the small world of people around him. Unlike "Baby's" repugnant representation of Hilary Swank's family as opportunistic hillbillies with all the nuance of "Joe Dirt," "Resurrecting the Champ" fills its scenes with flawed but redeemable humans and ends up being a compelling story about parents and children and fathers and sons.
Although I mistakenly believed the teaser gave it all away, "Resurrecting the Champ" gets it right.
It may not be a perfect film, but it stands well above the average, with an honest reflection or two of the human condition – something you can't squeeze into a movie trailer and the mark of a good film.