There are a number of qualities that separate "Rescue Dawn" from other prisoner of war and Vietnam-era films. First off, it feels more authentic. The same way that the first fifteen minutes of "Saving Private Ryan" pinned you back in your seat with its apparent realism – the bullets whizzing past your head, and a cacophony of sights showing the immediacy of death – "Rescue Dawn's" edge is its believability and its characters.
The acting in Werner Herzog's "Rescue Dawn" is extraordinary. Christian Bale and Steve Zahn both give the kind of performances that make even the most crusty movie snobs admit brilliance. Even a ridiculously emaciated Jeremy Davies gets in on the method acting battle royale that defines this remarkable feature from Herzog, one of the industry's most challenging filmmakers.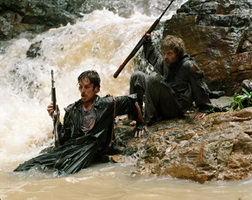 Based on actual events, "Rescue Dawn" is the story of U.S. Naval Pilot Dieter Dengler, who is charged with flying a classified mission at the dawn of Vietnam. Dengler is shot down alone over Laos, captured, and imprisoned with five other men in a remote camp. With no hope of rescue, Dengler must engineer a way out of their prison and face the harsh reality of the jungle that awaits just outside their bamboo prison.
Through the use of a stylized, but rich and astonishingly naturalistic presentation, Herzog builds uncommon tension in this film. Rarely have I been so engaged in a film's plot that I find myself agitated and physically stressed as Dengler and company mount an escape or as Dengler and Dwayne (Zahn) plead for their lives from a second set of enemies. If we learned after the fact that Bale and Zahn were forced to survive unassisted in the jungle during principle photography, few could claim to believe it wasn't true.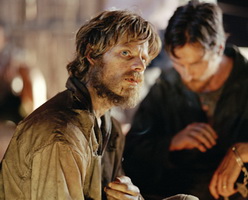 The only time "Rescue Dawn" loses its way is in it final moments – a typical end to an atypical film. The "returning hero" treatment may be authentic to the real-life story of Dengler, but it feels like a jolt here. Instead, it is an unwelcome arrival at the conclusion of a film of exceptional depth. Neither the story or the character are advanced by the straight forward wrap-up. Even so, it does nothing to diminish the power of the film.
"Top Gun" territory aside, "Rescue Dawn" deserves all the hype money can buy. Zahn and Bale are shoe-ins for Academy Award nominations – even Davies has a shot at a nod, having found a higher purpose for his familiar inflections and spacey mannerisms.
"Rescue Dawn" is a gripping and vivid film that stands head and shoulders above the war film templates that which have come before. This film is most certainly in league with previous heavyweights like "Full Metal Jacket" or "Saving Private Ryan."