Say what you will about the manipulation of facts in a Michael Moore-directed documentary, but the man knows how to tell compelling stories. Critics accuse him of hogging too much face time, mounting attack interviews, and staging publicity stunts, and they would all be right. But his films resonate. Not only does Moore cover hot-button issues in his films, but he has an uncanny ability to tap into a collective consciousness. He does this by telling stories.
Larry Charles and Bill Maher have a similar ferocity with which they attack the tenets of organized religion in "Religulous," but they still have a lot to learn about what makes a movie engaging from beginning to end.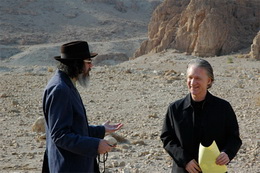 Charles is best known (now that "Seinfeld" is off the air) for directing "Borat," that shocking, masterful satire of American culture that was such an unexpected hit two years ago. But he inherited that movie from another director, and had a star (Sacha Baron Cohen) and writing team (nominated for an Oscar) who had already pioneered the film's fake-reality docudrama style on a TV show ("Da Ali G Show").
As director of "Religulous," Charles strings together a series of interviews that Maher conducts with religious leaders and followers from all over the world. As director, he is often seen on camera, accidentally in the background of a take or maybe on purpose—the reasons for it don't matter. What does matter is that it is indicative of the sloppily thrown-together mess that's passing for a movie here—which is not to say there isn't a lot of interesting material covered during the film. There is.
Maher isn't just skeptical of the existence of God, he is downright appalled at the way that religion has ingrained itself into the fabric of society. The talking snake and Garden of Eden legend pass for "fact" these days, and that makes Maher sick. This is the true face of normalcy? Each interview that he conducts starts out politely enough, be it at a portable chapel in a truck stop or a creepy theme park dedicated to Bible stories, but it is apparent that he's just waiting for something to offend him so he can turn on his angry stand-up routine.
It is a good routine. At his best, he has the bewildered incredulousness of George Carlin. At his worst, he's as self-righteous as his targets. Maher has his Bible facts down. What is unsettling about the movie is that his subjects, as a general rule, don't have theirs. The biggest feeling I took away from the film isn't a new one, but I am surely convinced of it now. Very few people really know what the Bible says—they just use it to fit their means and goals. Hate gays? Proof in the Bible. Love gays? Proof in the Bible. The one thing we can definitely count on is that the book was written and changed by countless numbers of authors and can be interpreted in many different ways. That makes believers who think they are sticking to the ultimate "Word of God" look even more ridiculous.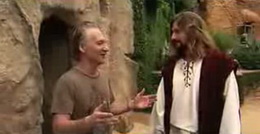 So Maher has a pretty easy time making fools of fundamentalists. Many hang themselves with their own rope. There are enough effective interviews—where Maher's subjects don't even realize how hypocritical they are—to make "Religulous" more than a passing curiosity and a true reflection of our current regressive culture. The problem is that Maher comes off just as pompus as the pious mass he is confronting.
When Maher does get an interviewee who is aware enough to admit and joke around about the inconsistencies of the good Book (there are at least two of these people in the movie), Charles cuts the interview short and moves on to easier marks. A deeper look into the contradictions of ancient texts and modern beliefs would have been nice. Just finding out how church leaders balance their faith with the hard-won facts of science would have made "Religulous" more than a pissed off skeptic's stand-up routine.
But if the release of this movie opens doors to a debate that most of the world seems unwilling to even approach, then perhaps "Religulous" has accomplished something. It's too bad, though, that it could have been so much more effective with some actual stories to draw an audience in.