[Rating: Solid Rock Fist Up]
Director Natalie Erika James' feature debut, Relic (at drive-ins Friday July 3 and on VOD Friday July 10 from IFC Films) is both a haunted house story and a treatise on aging, resulting in a movie wrought with both the usual horror movie "What's that?!" fear and a layer of emotional tension equivalent to Karyn Kusama's 2015 feature The Invitation.
"When elderly mother Edna (Robyn Nevin) inexplicably vanishes, her daughter Kay (Emily Mortimer) and granddaughter Sam (Bella Heathcote) rush to their family's decaying country home, finding clues of her increasing dementia scattered around the house in her absence. As Edna's behavior turns increasingly volatile, both begin to sense that an insidious presence in the house might be taking control of her. All three generations of women are brought together through trauma and a powerful sense of strength and loyalty to face the ultimate fear together."
The theme which runs through all of Relic is that of mothers and daughters and their relationships, which are – in this case – fraught with emotional difficulties. Kay has admittedly not spoken to her mother, Edna, for weeks when she reports her missing to the police shortly after her and Sam's arrival. And to that end, Kay and Sam haven't spoken, as Kay is unaware of Sam's employment or scholastic status.
No-one knows what anyone else is doing, and communication is at a standstill, given that Edna has disappeared, leaving behind a house filled with locks on doors which oughtn't need locks, such as closets, as well as ominous Post-Its on which things such as "DON'T FOLLOW IT" are written. Even when Edna returns home, she's reluctant to speak of where she was or what she was doing, and her mood shifts rapidly from loving and caring to cruelly capricious without any inkling that it's about to happen.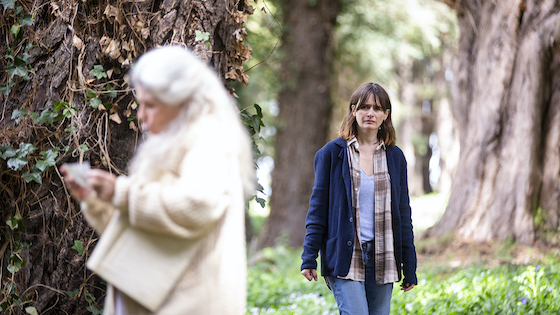 One can see echoes of Jennifer Kent's 2014 directorial debut, The Babadook, in Relic, as well as Stanley Kubrick's The Shining and any number of films where the viewer is uncertain as to whether or not the film is portraying supernatural events or the mental decline of one of its protagonists. Much of this is due to the script, co-written by director James and Christian White, which leaves the audience guessing for the better part of the film's tight hour and a half runtime.
Much like The Shining, the movie plays with the concept of spacial dynamics. However, while the Overlook Hotel in Kubrick's film only reveals itself to the close-watching viewer, James' depiction of Edna's house leans explicitly into madness during the race to its conclusion, wherein Lovecraftian non-Euclidian geometry creates a house of horrors as confusing and distressing to the viewer as it is to Sam, who is trapped within its confines.
Given that the cast is essentially Nevin, Mortimer, and Heathcote for the majority of Relic (save for a few neighbors and the like), the film hinges almost entirely on the performances of the three actors and the mood created by a dark country house gone ever-so-slightly to seed. Edna's home is full of the accumulations of a life well-lived, with framed photos crowding many surfaces, as well as her artwork. It creates no end of stacks of paper and boxes through which Kay and Sam must sort, and behind which anything could be lurking.
The main cast interact perfectly, behaving in ways familiar to any family who has had to grapple with elder care, a mother who doesn't understand how a child wants to live their life, or a child who seems to be throwing their life away. It's a heady mix, and never does any of the acting feel too broad. For most of Relic, the horror is very realistic.