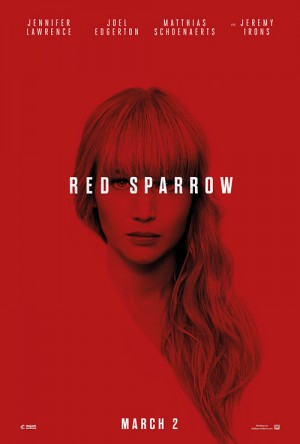 [Rating: Minor Rock Fist Down] 

Yesterday, watching the trailer to Red Sparrow something surprised me: The trailer to this movie is a helluva lot better than the actual movie itself. While the trailer has some great editing to reveal this as a spy thriller, the film itself unfortunately is nothing more than a messy saga of sex, lies, murder, and fake Russian accents all thrown together in a two-and-a-half hour drudge through the cold Eastern European winter.
Jennifer Lawrence has had in my opinion, a three-peat of mediocre films in three years. Passengers, mother! and now Red Sparrow have challenged her to do roles that thankfully, she's really good in, but the films themselves don't live up to. In this new film, directed by The Hunger Games' Francis Lawrence, she plays Russian ballet supreme Dominika Egorova, whose career takes a terrible downturn after an accident breaks her legs and ends her career.
From here I thought "oh okay she's going to be a spy." Wrong! This is a red herring because from there this film goes about a million different places at once. Lawrence engages with a murder planned by her (oddly young and creepy) uncle (Matthias Schoenaerts) that then turns the movie into a spy case so she can protect herself from the killing! But what kind of spy? A spy who uses their bodies to get what they want. As Dominika puts it, "a whore school" — the titular Red Sparrows run by the brutal "Matron" (Charlotte Rampling). From there, in a section that seems to go on forever, Lawrence does her spying to get information from American agent Nathaniel Nash (Joel Edgerton) and his link to secret intelligence trying to take down the Kremlin, and also help Dominika escape from her uncle and the Red Sparrows. Where were they in the 2016 election?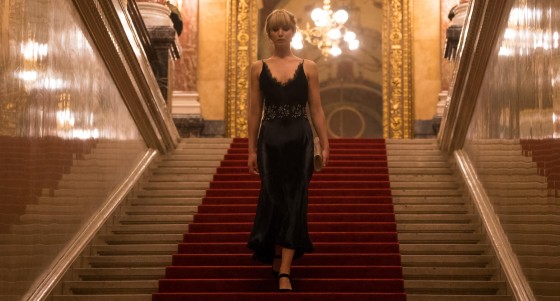 It's clear by now how much disdain I had for this film. It's one of the most sloppily edited movies I've ever seen. This isn't just about how a shot goes with another shot, but rather how the film is paced. At almost two-and-a-half hours, plus the commercials that any theater chain would show, you would have to sit in this drag almost three hours to still ask yourself what you just saw.
My friends are asking if this is a spy movie or something more. It's less action-packed than a similar story (Atomic Blonde, released just last year) and Red Sparrow's ending is less a surprise than  a cop out that could have been resolved in less time. The Male Gaze is something Hollywood seems to be trying to steer away from at times these days, but with Red Sparrow it's in full force with its brutal and graphic scenes of abuse and rape scenes that had some audience members grasping for their pearls. Overall, even if the trailer says you'll be guessing until the very, very end, the only thing you'll likely guess is how much more you have to endure.