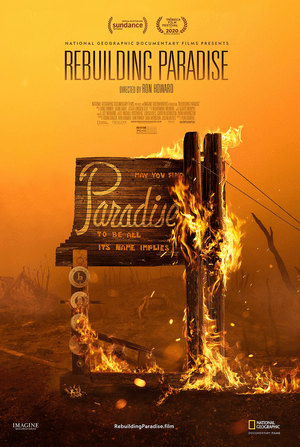 [Rating: Solid Rock Fist Up]
Opening digitally and in select theaters on July 31. See where it is playing near you.
The story of Paradise, California is as tragic as it is uplifting.
In 2018, the deadliest and most destructive wildfire in California's history decimated a town that once had a population over 26,000. This time last year, a door-to-door census counted just over 2,000 residents. The fire started because of a faulty Pacific Gas & Electric [PG&E] transmission line and killed 85 people. Roughly 95% of the town's structures were destroyed.
That's the tragedy.
Ron Howard's 95-minute documentary Rebuilding Paradise follows four people – Michelle John, the former Superintendent of the Paradise Unified School District; Steve "Woody" Culleton, the former Mayor of Paradise; Carly Ingersoll, school psychologist at Paradise High; and Matt Gates, Paradise police officer – over the course of 12 months as they recall their harrowing experiences all the while trying to bring life and normalcy back to the town of Paradise.
That's the uplifting, but it isn't easy. This documentary is going to elicit a lot of emotion. The first stream of tears came when Gates recalls finding a woman he thought was dead. There are also stories about people finding wheelchairs at the bottom of driveways, knowing their family died trying to escape and Ingersoll trying to console high school students, when she herself says that it's hard not to be trigged since she almost died.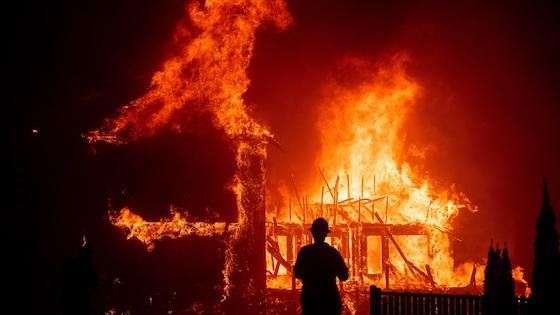 The only negative I can say about this movie was that it wasn't long enough. This is a story that can be, and should be, told over multiple hours. Howard briefly touches on PG&E's involvement, climate change, forestation, California's drought and prevention. All those topics can, and should, warrant their own documentaries.
But it was smart to focus on the people. Everyone Howard follows is trying to piece back together their life, while also trying to piece back together the town. Viewers will quickly notice that everyone who is highlighted over the course of the year, would rather put the town ahead of their own wellbeing. For example, Michelle John and her husband Phillip put their own health at risk trying to make sure the students in the school district – who are housed all over the region – feel some sort of normalcy. At one point, while the Johns are staying with family because their house burned down, Phillip remarks that his military PTSD and the Camp Fire PTSD are mixing together, causing him the inability to sleep well. Three days after the Paradise High School graduation, which the students were able to have at their high school, Phillip died of a massive heart attack.
There is tragedy, yes, but this is ultimately a story of hope, something the U.S. is clinging to right now as it deals with a worldwide pandemic. There are heroes amongst us, putting their life on hold to make sure things can get back to normal. It may not be easy, but it's the thing to do. Paradise, while tragic, was not short on heroes.
As Woody says while rebuilding his home, "it was never about being the first house built, it was about wanting to come home."