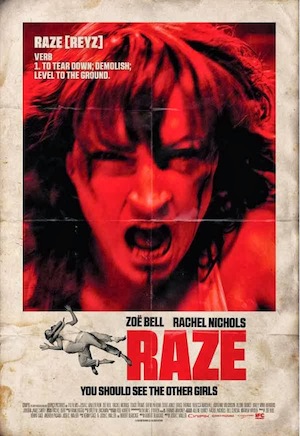 Josh C. Waller's film Raze is a cinematic throwback to the exploitation films of the 1960s and 70s. Unfortunately it doesn't have the tongue in cheek humor or the thinly veiled fetishizing that made that era of film so interesting and endearing.
Raze takes place in an underground arena. Here a group of people who crave the spectacle of hand-to-hand combat, kidnap and force physically fit women to fight each other to the death. The victor will get the chance to join the clan of spectators.
Sounds like a pretty good setup for a women-who-fight film, but Raze never quite works.
First there isn't a compelling motivation for why these women are subjected to this cruel punishment. If we were to look at another prison revenge film such as Oldboy, the entire plot of the film surrounds the mystery of why this man has been held captive for 20 years.
There also isn't the prison film conceit – bad women being punished by even more terrible people. Films such as the Jonathan Demme's Caged Heat make these female inmates heroes when they fight back against their captors. Raze does have the fighting back, but lacks a developed motivation for why this gladiatorial combat must take place.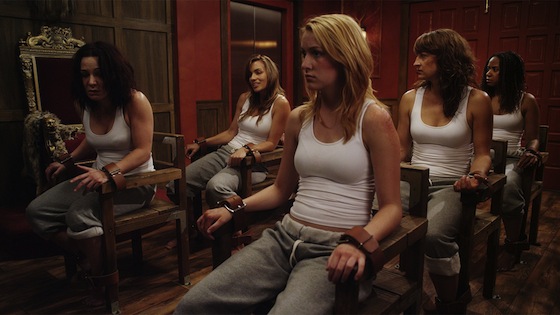 Doug Jones and Sherilyn Fenn who play the rulers of this combat are shamefully underused. Both actors have incredible B-movie cred and the tendency for hyperbole and over performance that could have made Raze a lot of fun. Even another scene or two with Jones could have sold the idea that a strange and maniacal group of people lead by this loony madman just captures women for fun.
The fight sequences themselves, especially between Sabrina (Zoë Bell) and anyone else are great. Zoë Bell uses her skills as a stuntwoman to the fullest every time she's on screen. There is even a misused title card motif that does payoff pretty well just before Sabrina's final fight.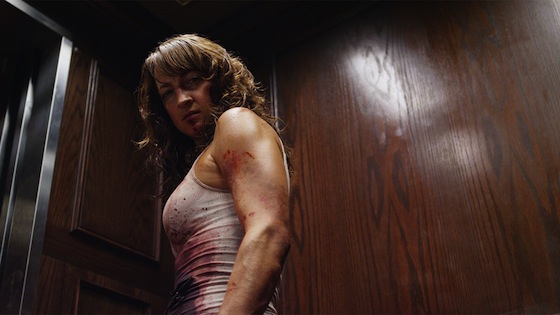 The most systemic problem with Raze is that it seems that Josh Waller and writer Robert Beaucage wanted to modernize a specific type of exploitation film from 40 years ago. To do this they squashed out the campiness, which is the very reason most viewers revisit those awkward and hilarious films in the first place.
The filmmakers do seem to cherish the exploitation films of decades past. Perhaps Waller just took Raze too seriously.
Raze is showing in Kansas City at the Screenland Armour at Panic Fest.