If blood and guts is your thing, "Rambo" has what you're looking for in spades. The fourth Rambo film is a sanguinary bonanza that is without a doubt bloodier than "Grindhouse," "30 Days of Night," or "Sweeney Todd."
The film opens with a montage of newsreel clips depicting the genocidal violence occurring in Burma , and that grotesque display of violence never stops for long. It continues throughout the film interrupted occasionally and only momentarily for what little plot development is provided through some truly dismal dialogue.
In many ways "First Blood," the film that launched this series, is a template for a type of film that typically drives me crazy. The basic construction of "First Blood" has been re-appropriated time and time again by films that try to blend issues and action film violence in ways that are very suspect. The violence in action films is clearly represented and shot differently than the violence depicted in a film like "Hotel Rwanda" – a film whose goal is to depict the horrors and crimes committed against real people. Action-film violence next to important social issues is sometimes comical and always represents conflicting motives.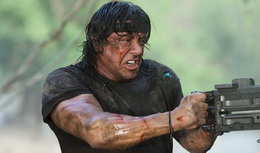 Films like "Blood Diamond" and "Rambo," to the detriment of their effectiveness and credibility, hedge their bets between realism and the action-style violence that drives box office receipts. One illustrative scene from "Blood Diamond" shows Djimon Hounsou and Leonardo Decaprio successfully navigating insurmountable gunfire on a debris riddled street, juking and jiving like bonafide action-heroes a la John McClane in "Die Hard," while everything and everyone around them are being blown away.
"Rambo" is a contemporary action film in every sense of the term. It is full of the extreme videogame-like violence and carnage that makes parents worry about little Jimmy's PlayStation time. It's on par, or exceeds, the gratuitous ultra-violence of films like "300," which seem include a narrative simply to provide a foundation for the highly articulated violence.
Star Sylvester Stallone directed and co-wrote the film. (I would love to use the phrase "at the center of the film," but lets try "off to the side in this film"), there exists a storyline. John Rambo has quietly settled away in Thailand, devoid of emotion and hunting snakes for a living. A group of missionaries led by "Sopranos" family priest Paul Schultze and Julie Benz (who played Darla on the Joss Whedon series "Angel"), attempt to hire Rambo and his boat to take them up river into Burma to deliver humanitarian aid to the war-ravaged peoples. After Rambo's initial refusals, he eventually relents to the pleas of the lovely Sarah (Benz) and takes them in. Shortly after he gets them to their destination, they are abducted by the army responsible for the region's genocidal actions and a team of personality-infused mercenaries are sent in to recover them. Of course, Rambo is hired to take the team to the exact spot the missionaries got off, and then all hell breaks loose.
The film shows many women and children, in addition to what seems like hundreds of men, being brutally murdered. Of course Rambo doesn't kill any of the children or women, he instead kills the people who do. The distinction between killing for justice and killing for hate and amusement is drawn somewhere in the mess, but in the midst of the frenzy the lines most definitely blur.
Is it fair to take a film like "Rambo" out for a walk like this, knowing as I did going in, what to expect? Yes. "Rambo" is an unmitigated bloodbath that on some small level wants to make a statement about the injustice of genocide and oppression of people. It also wants to construct the world as a place where an evil exists that is so dark that only a U.S. military killing machine trained to deal out a comparable degree of mindless evil can combat the foe.
There is nothing fun about "Rambo." There is nothing heroic or valiant, just violence and death against more violence and death. Whether as a result of the novelty or the violence, I have no doubt the film could do very well at the box office. One thing I am sure of is that it isn't worth the price of admission. Perhaps it should become a new template. This time one that serves as a lesson on how to avoid making frivolous action films that force together important themes and disposable violence, thereby wasting the opportunity every film has to entertain or to provoke.