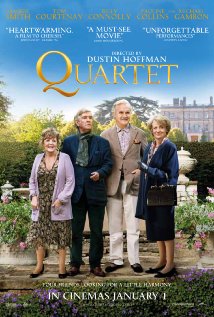 "Old age isn't for sissies."
Bette Davis said that, but Pauline Collins repeats it early on in Quartet, the directorial debut from Dustin Hoffman. The film, which features an expansive cast that includes Maggie Smith, Billy Connolly, Tom Courtenay, Michael Gambon and Sheridan Smith, deals with getting older, staying vibrant and coming to terms with your life as you enter your twilight years.
It's a simple story, adapted for the screen by Ronald Harwood, who also wrote the play. The film takes place on or around the grounds of Beacham House, a retirement community for musicians. There's an upcoming fundraising performance that serves as the film's motivating action, but the meat of the movie is really the interplay between Courtenay, Smith, Connolly and Collins.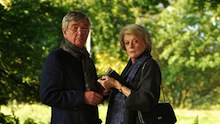 The film's setting is well utilized, giving way to sweet moments between musicians, surprise performances and overly sentimentalized interactions between the residents and visiting inner-city students. Gambon has some great moments as Cedric, a retired musical director, and full-time crank. Connolly steals every scene he is in as an incorrigible old man who both hates what age has done to his body, but enjoys the freedom it provides for him to say and do what he pleases with little recourse.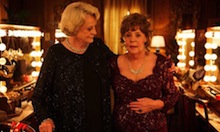 Harwood's script pops between the four leads, but it's difficult to tell if that's because of his writing or the actors' ample talents. Hoffman's direction is solid, but, again, he has a gifted cast to work with, and a simple story to tell. Still, there's a dignity he lends to the proceedings. The film doesn't treat old age with same lack of sentimentality as Amour, but it doesn't pander toward excessive sentimentality either. It toes a fine a line, which is both Harwood and Hoffman's greatest achievement. The film also deserves kudos for treating the performers and performances at the film's climax with respect, rather than resorting to cheesy sight gags or reducing its characters to cartoons or punchlines.
At 98 minutes, Quartet is brisk, well acted and well directed. The film  stands on the edge of schmaltziness, with one foot dangling. Thankfully, it never fully jumps off. It's not necessarily memorable for the right or wrong reasons, but while it doesn't do much to be outstanding, it is a perfectly pleasant film that doesn't insult the audience or its leads.