Young filmmaker and film aficionado, Will Findley got the chance to see David Gordon Green's new film Prince Avalanche. Here's his take on Green's latest.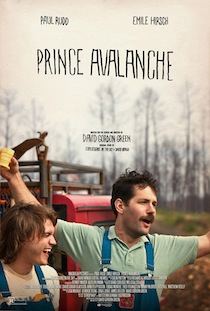 David Gordon Green has been all over the map. From his debut feature George Washington, to his efforts in stoner comedies like Pineapple Express and Your Highness, this writer and director is certainly not pigeon holed, which only strengthens his newest feature Prince Avalanche.
Based on the Icelandic film Either Way, David Gordon Green takes us through the summer of 1988. A two-man road crew has been assigned to repaint the lines on an all but abandoned stretch of Texan country road, after the region was destroyed by a wildfire just a year before. Paul Rudd plays a brilliant, mustachioed Alvin, who has taken the job to escape city life. For the trip, he has hired his fiancés brother Lance, played by Emile Hirsch, who simply works through the week to go into the city on the weekends. Both men are mouthy and set in their ways, which brings about the butting of heads, and ultimately, a beautiful friendship.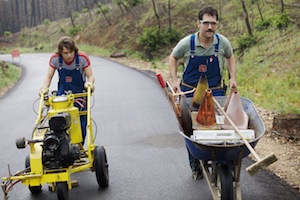 The film's production was kept secret until it was nearly completed. Shot in just 16 days in northern Texas, the intention was to mimic the minimalist production of its Icelandic source material. Tim Orr, faithful Green collaborator, served as the film's cinematographer, and brought the Texas countryside to life with clean and beautiful camera work.
Their time on the road brings them in contact with two incredibly minor, but beautifully written and performed supporting characters. The first is a man known only as the Truck Driver, though his driver's side door has been personalized with stick-on letters that spell M-O-S-E-S. Lance LeGault plays the Truck Driver in his final performance before his death last year.
Alvin also meets a woman digging through what is left of her home after it was destroyed in the fire. The attention to detail given to each character, from both Green and the respective actors is remarkable.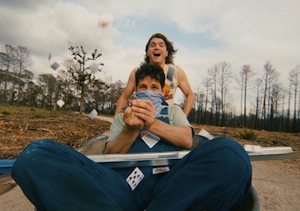 The film takes a unique and interesting approach to masculinity and male bonding. Out among nature with only themselves, we see many scenes of Alvin and Lance performing their manliness for each other, both through scenes of proving themselves, and their worth, as well as through scenes of immense caring for one another. It takes us through long stretches with no dialogue, punctuated by scenes that are both intricately written and profound, and some that are absolutely hysterical.
Native Texas band Explosions in the Sky have had many singles featured in popular films, but Prince Avalanche marks their first film score. The dream-like post rock sound fits the film like a glove, from the opening notes of the first track to the end credits, the music strengthens the film's tone, without demanding the audience's full attention, making it one of the films strongest elements.
Prince Avalanche brings together immense talent in all departments, and it is a strong step in the right direction for David Gordon Green. It is a terrific film that will ultimately be seen by very few people, but is well worth your time. It is available on iTunes and Video On Demand, and in theaters soon.