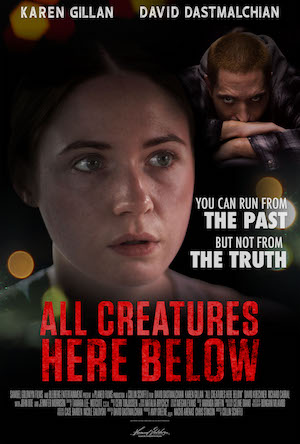 [Rating: Solid Rock Fist Up]

All Creatures Here Below, from screenwriter David Dastmalchian and director Collin Schiffli is not an easy movie to watch but it's a movie that will stick with you for a long time after you see it. This is a testament to Dastmalchian's gripping script and a heart breaking performance by Karen Gillan.
The film tells the story of a couple, Gensan and Ruby (Dasmtalchian and Gillan, respectively), living in poverty in Los Angeles, desperate to catch a break and escape their bleak lives. When a foolish and impulsive crime goes wrong, they're forced on the run, fleeing to Kansas to seek refuge, but also charging headlong into a confrontation with the past they've tried to forget.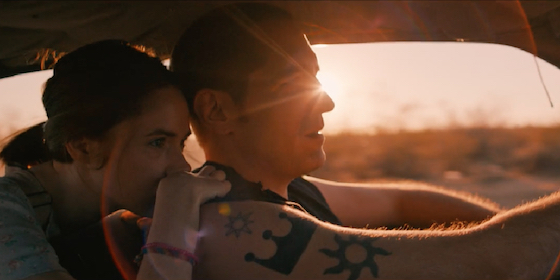 The cast is terrific Dastmalchian and Gillan are beautifully tragic together. Their chemistry is both electric and sad and Dastmalchian (a Kansas City native) is becoming an actor to be reckoned with. But this is a truly powerhouse performance from Karen Gillan, who is more widely known for her role in the Marvel Cinematic Universe as Nebula (Guardians of the Galaxy) and as the Eleventh Doctor's companion on Doctor Who.
Their cast mates fill in nicely including John Doe, Jennifer Morrison and Chad Crenshaw as these two wandering lost souls come face to face with the moral complexity of the life they've had forced upon them from their insanely fucked up childhoods. There are secrets to be learned and they're not exactly easy to digest.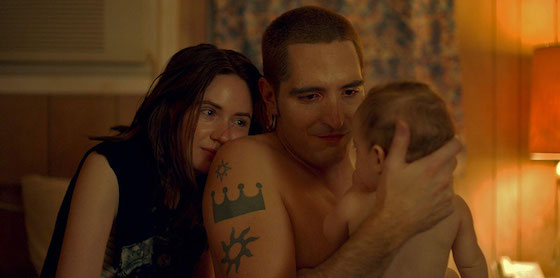 Director Schiffli (Animals) handles the material gracefully, allowing his talented actors to self destruct on screen. The film is shot mostly in Kansas City, Missouri, which while beautiful at times, helps to capture the desperation of these characters perfectly.
Dastmalchian's script however should get plenty of praise here. He treats his characters with a love and grace that unravels the inner demons and conflicting of what is bubbling beneath the surface.
All Creatures Here Below is a tough watch about a difficult subject matter but it's a powerful statement from a talented writer with a tremendous performance from Gillan.
Did You Know? This film is the first to take advantage of new film incentives in Kansas City, Missouri.