I'll start off this review by stating that I'm a big fan of master animé director Hayao Miyazaki. A lot of people call him the Japanese Walt Disney, but as far as I'm concerned he could make Mickey's creator his little bitch if he ever wanted.
Having said that, it's probably easy to deduce that I was greatly looking forward to Ponyo, Miyazaki's first film in four years. It would be reasonable to say it was my most anticipated movie of the summer, and had a shot at being the flick I was most excited for this year.
I want to be very delicate about this because, it should be clear, Ponyo is another great film from the greatest animator the film medium has known. It just sucks that this film wasn't made for me. And, assuming you've passed primary school, it's not for you either.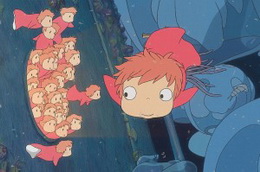 In Ponyo, a five-year-old boy named Sōsuke catches what he assumes to be a goldfish, but turns out to be a magic fish baby (if I had a nickel for every time I saw one of those in a movie. . .). But when that same MF Baby, newly renamed Ponyo, becomes friends with Sōsuke, she decides she'd rather be human, and in the process throws all of nature off balance.
Although Miyazaki's most recent three films (Princess Mononoke, Spirited Away and Howl's Moving Castle) have been the most mature of his career, he's taken it back a notch with Ponyo. Inevitably, it will be compared with his 1988 film My Neighbor Totoro, his only other film that felt like it could only fully be appreciated by people young enough to consider cooties a serious medical risk.
The story is approached from Sōsuke and Ponyo's perspective. That alone doesn't necessarily make it a movie that only kids can appreciate, but Miyazaki decides to take that angle, exposing the plot slowly, simply, and with colors bright enough to blind a man not wearing protective eyewear.
Totoro was a kid's movie too, but its majestic use of silence and fantasy made it appreciable to kids of any age. But Ponyo is much more targeted, and I felt like an outsider looking in while watching the film. I can appreciate some elements, but the rest of them just weren't crafted for me.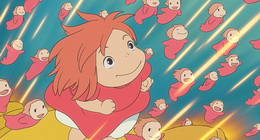 Enough complaining – I'd be remiss if I didn't mention the superb animation going on the film. Almost entirely traditional cel animation, Ponyo hardly uses a computer in the entire feature. (When it does, it's for minimal lighting or reflections in the background.) And it looks phenomenal – for less than a fifth of the final budget of the visually pleasing Pixar smash Up, Ponyo has a life and soul that only hand-drawn animation can bestow upon motion picture, and Studio Ghibli's animation may never have been so fluid and perfectly executed.
Because the movie features magic and sealife, Miyazaki has all the license he needs to visually style the film into the trippiest feature he's presented yet. With giant prehistoric fish, monsters comprised of giant waves, and a sea queen as large as the ocean herself, there's a lot of eye candy that kept me complacent as the story catered to younger audiences. I want to sit on this statement a bit longer before I make a final decision, but it's probably Miyazaki's best-looking film to date.
If you're not a fan of animation or Miyazaki, you'd probably be best to skip Ponyo. But anyone else owes it to themselves to check it out, if only because it's from the greatest animator of all time.