The tagline for the original Netflix movie The Polka King, starring Jack Black as real-life entertainer Jan Lewan, is "the greatest scandal in polka history." But the film's lighthearted tone is about as far from the streaming platform's usual style of true-crime content as you can get.
The Polka King, which premiered at Sundance in 2017, chronicles the rise and fall of a Polish immigrant bandleader who forged a polka-band-Ponzi-scheme empire in the 1990s in rural Pennsylvania. Yes, this distinctly falls into the truth-is-stranger-than-fiction category.
But what's strange is that it's the second real-life, well-intentioned con-man underdog (who goes to prison and gets attacked) that Jack Black has played in five years. The 2011 Richard Linklater movie Bernie has Black playing a Texas man who was so well liked that none of his neighbors blamed him for killing an 81-year-old widow and putting her in the freezer. The real difference between the two movies is that Bernie finds a more cohesive balance between the craziness of the story and a solid emotional center. The Polka King never quite gets there.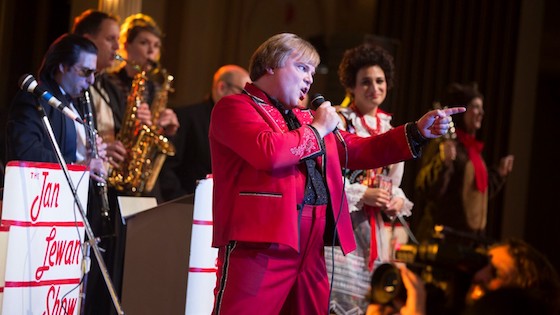 That doesn't mean it's not without its charms. Black's Jan Lewan is a joyful presence, radiating confidence and good times to everyone around him. He's such a happy-go-lucky guy that he doesn't even mind that his ex-beauty queen wife (Jenny Slate) pronounces his first name wrong every time she says it.
Jan sees himself as the embodiment of The American Dream, and when his polka band starts complaining about their meager wages, he expands his business in the most American way possible: He lies to people. When Jan promises his most loyal fans (most of them senior citizens and retirees) up to 20 percent return on their "investment," in a polka-themed business empire, he seems to think he'll be able to actually do it.
And we want him to, which is one of the main reasons The Polka King is so easy to watch. Black comes close to self-parody more than once, but there's an inherent likability to his Lewan, and an enormous curiosity—knowing especially that it's a true story—in seeing how far he can take it. The Polka King will likely send you straight to Google to see what really happened and have you marveling at how much of it is actually true.