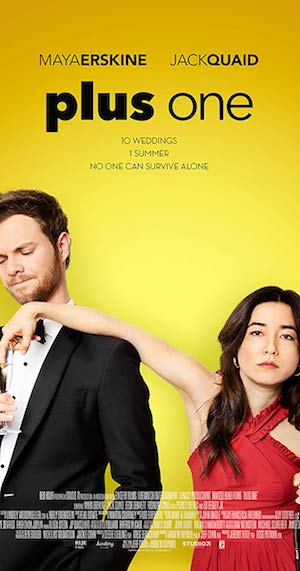 [Rating: Solid Rock Fist Up]
A classic rom-com with just enough edge to ground it yet stocked with all the levity and comedic crackle needed to keep it light on its feet, Plus One maintains a healthy balance between heartfelt and irreverent. The story of two college friends that have hit their 30s as singles and are adrift in a sea of weddings, the film swerves between predictable and unexpected, keeping its audience off-balance. This is a credit to the script and direction, not a knock against them, however, for the movie effectively uses the tropes of its genre to conform to the best parts of it while blazing a path entirely its own.
Plus One opens with Ben (Jack Quaid) practicing his best man speech in front of his college acquaintance, Alice (Maya Erskine), who is half in the bag and reeling from a recent breakup. With their college years well behind them, and a slew of weddings in front of them, the two resolve to team up through the spring and summer so that they can go to the various celebrations as a plutonic pair. This will keep them away from the dreaded "singles" tables, and will provide each with an ally as they navigate the nuptial grist mill in the coming months.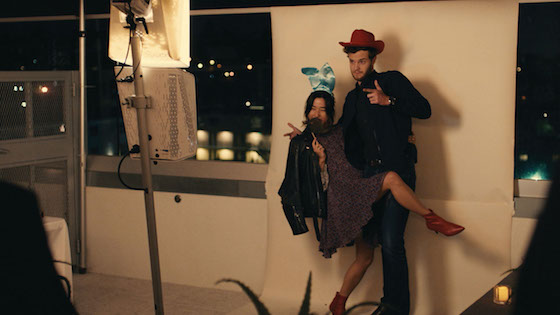 As spring turns into summer, and the pair endure one awkward champagne toast after another, the inevitable happens: they begin to develop deeper feelings for each other. Yet Plus One swerves here, treating the expected hook-up as the pretext to the narrative development rather than the endgame. Ben and Alice's natural chemistry and genuine affection for each other leaves no doubt about where this is all heading, yet the time the script spends with these characters to flesh them out as more than just tools for a happily ever after yarn is what sets the film apart.
Jeff Chan and Andrew Rhymer wrote and directed Plus One, and the depth they provide for their leads gives the conflict that develops in the second half of the picture real weight. Ben and Alice are both victims of complicated marriages, with the former the child of a divorce, and the latter the product of a relationship that should have suffered the same fate yet was made worse in the absence of it. Actions have consequences, especially when it comes to parents as models of relationships, and the way Ben and Alice view the world through the prism of their upbringing guides Plus One through its most challenging portions. As the movie progresses, it becomes less of a "will they or won't they?" and more of a "can they or can't they?".
None of this would scan as genuine were it not for the organic chemistry between Quaid and Erskine, whose dialogue and interplay paint them as believable old friends. Erskine's presence on-screen is especially notable, likely owing to her established relationship with Chan and Rhymer as the star of their Hulu series, PEN15. As an actress, she fearlessly embraces the messy and vulnerable side of her character, with Chan and Rhymer providing her with the film's juiciest scenes as a result. As good as Quaid is, he's often blown off the screen when sharing an emotionally charged moment with Erskine, who seems to be digging deep with her performance.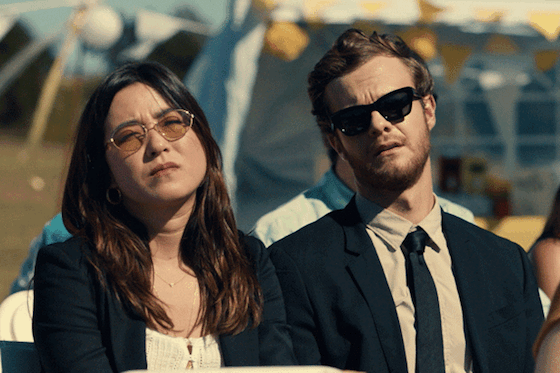 Structurally, the film does a number of interesting things, using wedding speeches at the receptions to mark the passage of time, but also to showcase the ridiculous nature of the wedding experience as a whole. Getting married can be quite the social flex, yet how people respond to weddings as guests is usually far more informative as a demonstration of class and character. Plus One uses these marriage ceremonies to probe not just Ben and Alice, but a wide range of personalities found at these gatherings, ranging from the drink-your-feelings conflicted guests to the wise and composed ones. These moments say a lot about what it means to love and be loved, both in a relationship and as part of a community, and it serves as a magnificent counterpoint to the overarching narrative following Ben and Alice's journey together.
What it all amounts to is a very earnest, funny, and engaging film about what it means to be vulnerable and present for another person, and how that connects to larger issues buried in a person's life experiences: all of them leading up to a moment (a wedding) that helps to define all those in attendance. Solid supporting turns by Rosalind Chao and Ed Begley, Jr. (as Alice's mom and Ben's dad) round out a solid supporting cast that adds weight to the story, yet never overshadows its leads. And while it isn't breaking any new ground in the genre, or surprising anyone with its unspooling, Plus One sticks its landing as a modern-minded rom-com with a lot to say about how people grow into themselves. A sort of cross between When Harry Met Sally and 500 Days of Summer, Plus One will be there for you, to have and to hold, in sickness and in health, for richer or poorer, until death (or the credits) do you part.