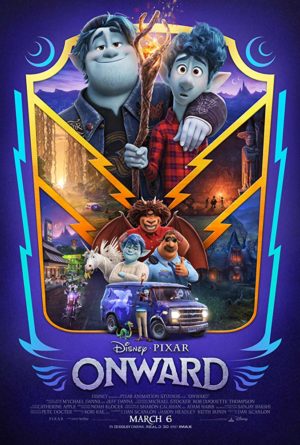 [Rating: Solid Rock Fist Up]

A new decade for films means a fresh new slate of imagination coming to life from filmmakers and studios. Pixar and Disney, one of my favorite joint commercial film companies, returns in the early part of the year with their newest film, Onward, telling the original story of two brothers who have the chance to rediscover magic in the world, and with that magic, could bring their dead father back one last time. This epic quest is familiar in many ways, yet still has the main factor in many of Pixar's work: heart.

Directed by Dan Scanlon (Monsters University) and based in part on his life experience, Onward is about two elf brothers: the shy, self doubting Ian (Tom Holland) and loud, overly enthusiastic Barley (Chris Pratt). On Ian's birthday, he and Barley are given a gift from their mother Laura (Julia Louis-Dreyfus) that was passed down from their late father to them. It is a wizard's staff and a note saying that their father can return for 24 hours. The two set out in an attempt to find the magic within themselves to do so. Unfortunately, when Ian discovers he has magic running through him, he brings his father back – half of his father. His lower half, legs and all.
Ian and Barely then set out on a quest in a very Dungeons & Dragons style manner, guided by Barley to meet The Manticore (Octavia Spencer), a former ferocious beast now managing a family-friendly restaurant. Manticore has the map that'll lead the brothers to find a Phoenix gem that will help bring forth the top half of their father, allowing them to have a few precious moments with him before the clock runs out.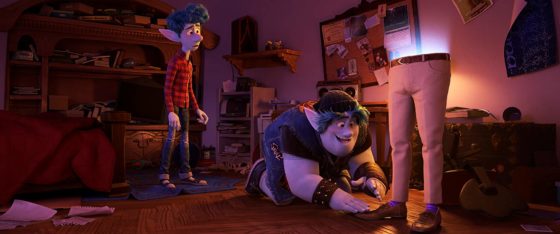 While Onward is yet another visually appealing film with a good story from Pixar, a lot of it feels familiar, and that's okay. There's the family aspect that feels like Coco. There's the journey of two different individuals that calls back to both Toy Story and Monsters, Inc. There's even similarities to Guardians of the Galaxy with the Chris Pratt character! And yet, through the many familiarities that really give each modern Pixar movie their push, I couldn't help but be totally engrossed in the world around it.
I felt like I needed a bit more world building, but with every strange creature the boys run into, dear Barley and his love for role playing games and the history of their world helps me learn more about everything. The very heart and soul of the film is not about the brothers finding the magic to bring their dad back, but finding the understanding that they're the heroes to one another and that they possess the greatest magic of all, being each other's brother. 

Onward is a magical adventure, and hopefully a step forward for Pixar into this new decade of all new world-building and exploring the countless imaginations people have to keep going onward into new and exciting things. Much like the film, magic never dies if there's still somebody out there who can believe in using what you've got to make something totally awesome!