"Pirate Radio" – the new film from writer/director Richard Curtis ("Love Actually") – knows exactly what it's doing.
It tells the story of Carl (Tom Sturridge), an 18-year-old recently expelled British student, who in 1966, is sent to stay with his godfather, Quentin (Bill Nighy), on his boat in the North Sea. From this boat, Quentin broadcasts the pirate radio station Radio Rock, along with a group of DJs and glorified interns played with tremendous heart by Philip Seymour Hoffman, Nick Frost, Chris O'Dowd, Rhys Darby, and Rhys Ifans, among others.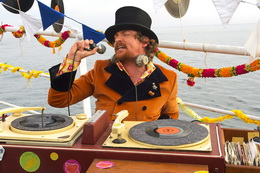 The performances are uniformly excellent. They, like the film, strike a perfect balance between humor and a very measured, appropriate dose of sincerity. Nothing is taken too seriously, here, but there's no cynicism to be found. Carl's romance with Nighy's niece plays out logically and simply and his relationships with the others on board are established slowly but surely without being milked for phony tension. Curtis' affection for his characters comes through and gives way to our affection.
Some elements are coming-of-age; some feel like a Cameron Crowe movie. What's the most surprising is how many cliches Curtis sidesteps while simultaneously embracing and channeling others. It's pretty cheesy at times, but it's so funny and effortlessly endearing that its cheesiness takes on a kind of blissful self-awareness. Again, it knows what it's doing.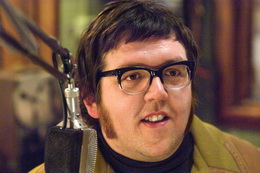 Another nice touch is the way the political conflict is handled. In the midst of a veritable rock embargo on British airwaves, the folks at Radio Rock march forward, delivering new music 24/7 to the salivating masses.
This defiance unavoidably incurs animosity. Kenneth Branagh plays an imperious politician whose goal is to shut down the radio station using any contrived legal loophole available to him. While he's often very funny, the tone of his scenes is a lot different than the rest of the characters', and Curtis wisely keeps them separated.
There are no scenes of interaction between Branagh and Nighy, and the film avoids devolving into an underdog story. In fact, the residents of Radio Rock seem to be thwarting Branagh's every attempt to dismantle them with relative ease. This provides just enough conflict to make us care but not enough to spoil the fun.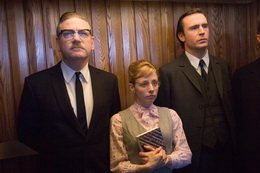 And that's what this is. It's not a great film, but there's a lingering, nagging satisfaction in the back of my mind that I can't ignore. It sets out to be consistently funny and entertaining and it does so with enormous efficiency. Walking out of the theater, I felt relief. It's been a miserable screening experience this past month or so with tepid disappointments galore. I'm hoping "Pirate Radio" sets a new precedent.