If there was anything left to demystify marijuana use in America, "Pineapple Express" has done its part to satisfy any lingering curiosity. The film's cavalcade of cinematic depictions of marijuana use and dealing, including a scene with three teenage boys, pretty much guarantees that it won't be awarded any merit badges from those film and entertainment outlets committed to promoting wholesome and morally sound films.
That said, you can't make a classic drug-themed movie without barrels full of debauchery and "Express" has that in spades. This only ensures that the same kids that parents would love to keep away from this film will flock like packs of eager lemmings to their buddies houses to delight in the newly minted stoner classic when its released on DVD.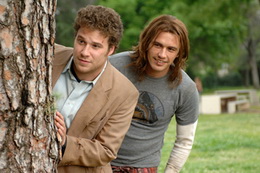 Although directed by David Gordon Green ("All the Real Girls"), "Pineapple Express" is really just the latest film in the recent flood of extreme highs and wicked lows (i.e. "Walk Hard: The Dewey Cox Story") also known as the films associated with Judd Apatow. Apatow gets a producer and story credit on this one, while the screenplay goes to Seth Rogen and Evan Goldberg, the duo that penned the equally funny "Superbad." "Express" reteams Apatow with co-stars Seth Rogen ("Knocked Up") and James Franco ("Spider-Man") who all worked together on the high-school-life classic "Freeks and Geeks." Consequently, no matter what their futures hold, all three gentlemen get a permanent pass from me for their work together on "Geeks." It remains a shining moment on television that has launched the careers of Rogen, Franco, and Apatow, as well as Martin Starr, Linda Cardellini, John Francis Daley and Jason Segel. I hold fast to my claim that "Geeks" is certainly one of the most underappreciated shows of the last several decades.
"Express" is the story of two hapless slackers, process server Dale Denton (Rogen) and his drug dealer Saul Silver (Franco) who find themselves in a heap of trouble when Dale accidentally witnesses a murder involving a dirty cop (Rosie Perez) and drug kingpin Ted Jones (Gary Cole). In a panicked frenzy, Dale flees back to Saul's house where they reason that the super-rare weed in the joint Dale tossed at the crime scene could lead the murders straight to Saul, the only dealer in town currently dispensing the potent herb called Pineapple Express.
What audiences may not know going in is that "Pineapple Express" is both a stoner romp and a send-up on classic action TV series and action films. In fact, it's packed with enough cheesy 1980s violence to make the makers of "Miami Vice," "Magnum P.I." and "T.J. Hooker" quite proud.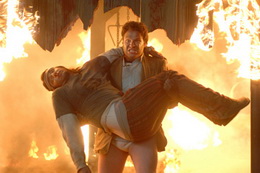 Just as Rogen and Goldberg elevated the high school buddy comedy with the script for "Superbad," they successfully elevate the stoner buddy flick with "Express." They added just enough depth and dimension to the standard formula to give themselves license to make use of every cliche and not look too terribly stupid doing it. Frankly though, it's the action elements that provide scene after scene of mishap laden humor and give the film its absurdist, slapstick edge. One that feels a great deal less borrowed than the average modern comedy.
"Express" doesn't have the power to take down "the Bat" at the box office, but scratch another mark in the winners column for Seth Rogen and Apatow. It turns out, that just in case there was any lingering doubt about who represents the new-guard in big-screen comedy these days, "Pineapple Express" does it's part to answer that question too.