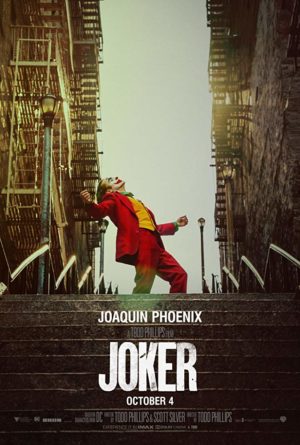 [Rating: Minor Rock Fist Up]
Romero. Nicholson. Hamill. Ledger. Leto (I guess).
It's an edgy role, plumbing that dark mind. Romero was a cackling prankster, which Nicholson emulated with a darker edge and some dance moves. Hamill's vocal performance was over the top and menacing. Ledger took the role to chaos and madness. I didn't see Leto's work.
What Joaquin Phoenix adds to the canon is pain. Raw pain that cracks his face and lives in his eyes, even as he convulses with uncontrolled laughter. And his performance is far and away the best thing in Joker, a character study of mental illness – not a comic book movie – directed by Todd Phillips (The Hangover, Old School) and written by Phillips and Scott Silver.
Opening with a sad clown, Joker follows Arthur Fleck, a mentally ill man falling through the cracks of society as he embraces his illness, turning from victim to villain.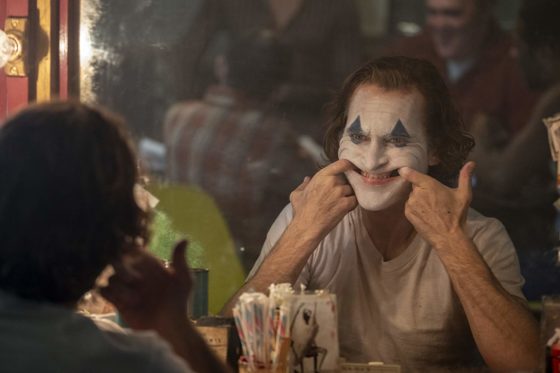 And what a victim. Arthur is skinny. Like Christian Bale in The Machinist, alarmingly skinny. He lives with his mother, Penny (a perfectly pathetic Frances Conroy) who is so obsessed with the memory of an old flame, she can't muster the tiniest interest in her son's life. Together they watch a late night program, and Arthur, desperate for a father's approval, dreams of connecting with the host (Robert De Niro).
Arthur is childlike and trusting – he only wants to make people smile – but his condition, which makes him laugh uncontrollably regardless of his emotions, renders him an outcast. He's so used to getting beat up he instinctively curls into a ball, protecting himself and waiting for it to end.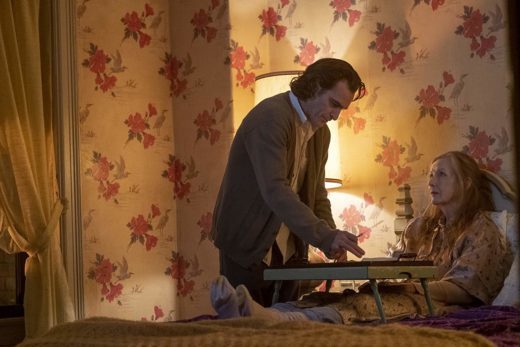 The few resources he has disappear, and Arthur's barely existent hold on social norms begins to unravel. By the time The Joker is unveiled, he's unrecognizable – even as Phoenix. Anybody could be under that face paint.
His character arc is not unlike the Joker's own treatment at the hands of previous actors. He starts with a Romero's gleeful enthusiasm, and slowly moves toward urgent, desperate chaos. Phoenix is possessed by the physicality of the role.
The movie is a commentary on the stigma of mental illness and the repercussions of not providing support and resources for those who suffer from it. Joker also implies that the issue with gun violence isn't guns or regulations, but not prioritizing treating mental illness. In the end, the violence is ugly and desperate, but it's hard to say what is accomplished.
This movie is for film fans, not comic book ones. It doesn't do anything new and is only lightly interested in the source material. This Joker lacks in brilliance – there's no chemicals, no mental savvy here. He relies on dumb luck to get away with things, so caught up in his own pain he doesn't have the mental energy or creativity for the complicated hi-jinx that make him Batman's perfect foil. To their credit, Phillips and Silver finally give the Wayne family a decent reason for walking in an alley (that's always bugged me).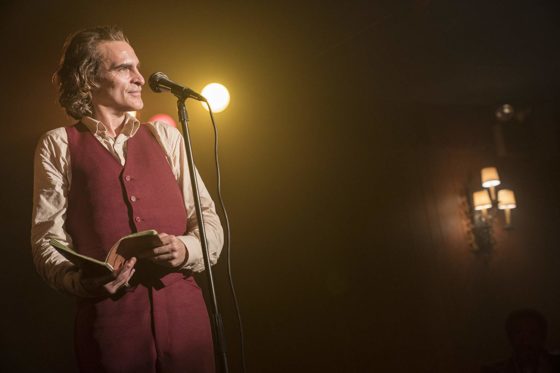 De Niro's own films are heavily referenced, and his performance as a successful late-show host (on the opposite side of the couch from where he was in The King of Comedy) brings his career full circle. Arthur Fleck has more in common with Travis Bickle than he does with the Joker.
But this isn't a comic book movie. It's a grueling, brutal character study portraying the stigma of mental illness. There is little action. There are a lot of indulgent shots of character twitches and dancing, with little relief from the relentless tension. The idea of the Joker could be removed from the story with very little consequence to the script.
While Phoenix absolutely delivers in his performance, the script doesn't deliver on the promise of the character. The Joker's backstory is fascinating and slippery. By focusing (however well) on the story of mental illness, Phillips and Silver shortchange the actual villain – the brilliant, creative, sadistic Joker isn't here.