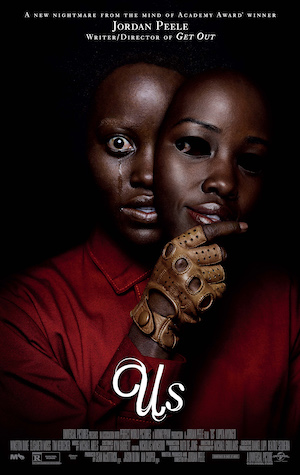 [Rating: Rock Fist Way Up]

Horror movies have lost their way over the years it seems, falling victim to their own tropes of jump scares and over-the-top slasher killers. Thankfully, comedian Jordan Peele bucks that trend with his sophomore flick, Us, a chilling throwback to Hitchcockian psychological thrillers that features a terrifying performance from Lupita Nyong'o — and hopefully proves once and for all that just because you're funny, doesn't mean you can't scare the shit out of someone.
A family on vacation in Santa Cruz is forced to rethink their definition of what a family unit is when the during a seemingly random power outage, they are terrorized by 4 mysterious strangers that turn out to be their doppelgängers. The film transitions through an intense blend of horror genres as the Wilsons try and make sense of what is happening before it's lights out for everyone. That's all you're getting out of me. This is truly a unique film, even while it pulls from familiar horror territory.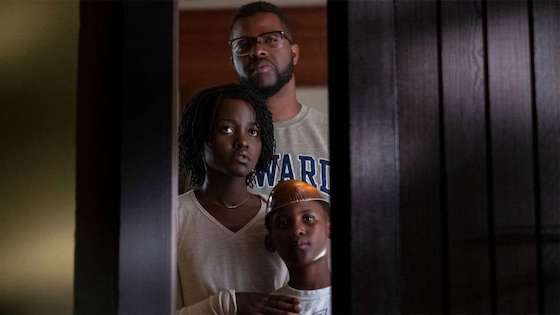 The cast is terrific, with everyone taking on dual roe. Winston Duke (Black Panther) adds just enough comic relief that he provides just the right punctuated moments of levity but never undercuts the atmospheric tension, while Peele tightens the screws throughout the film. Kid actors can be a mixed bag in horror films but the Wilson kids, played by Shahadi Wright Joseph and Evan Alex, turn in memorable performances in their challenging roles.
But this is Lupita's movie and it's not even close. The Academy Award winner (Best Supporting Actress for 12 Years a Slave) is both terrifying and mesmerizing as Adelaide Wilson and Red, her doppelgänger. She carries the film on her shoulders, her cast mates feeding off her energy. If this woman hasn't received the attention her talent deserves, this is sure to turn the heads of those who have refused to accept she's one of the best actors in Hollywood today.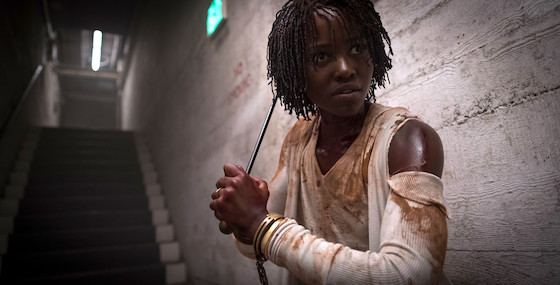 Peele is drawing his inspirations from some of the all-time classics. The film is ripe with Easter eggs and nods from a wide spectrum of horror faves. He's clearly steering this into Twilight Zone territory, obviously inspired by the TV series — and no surprise considering Peele is executive producer and host of the CBS reboot. But he's also appealing to fans of horror classics going back to The Birds, The Shining and even delving into some M. Night territory.
Not everything works. The film runs almost two hours and at times seems to drag just a bit too much in between plot drops. Peele takes a lot of risks with his story and not all of them pay off. There are some pretty heavy ideas introduced very late in the film that are very easily left to the imagination, but it also feels like a lot of compelling ideas may have been left on the cutting room floor that may have added some depth to the third act.
Us is one part Hitchcock, one part Twilight Zone, with a dash of fun. It's not perfect but it gets its terrifying point across. It's a movie that will sit with you long after the theatre thanks to Peele's grand ideas and Lupita's standout performance.