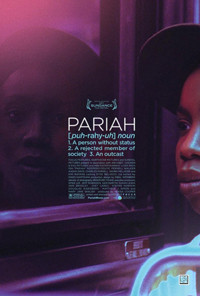 One of the strengths of newcomer Dee Rees is her ability to tell a story without ever explaining to the viewer that she's telling a story. The opening moments of the writer/director's debut feature, Pariah illustrate this point.
Alike (Adepero Oduye) and her friend, Laura (Pernell Walker), party in a strip club. Both wear baggy men's clothing and wave dollar bills at the scantily clad women. Alike is the more reserved and when she and Laura are comparing the amount of phone numbers they've collected that evening, while they wait for the bus, it is obvious that Alike is still new to the game.
Laura and Alike sit quietly on their bus ride. When Laura's stop comes she tells Alike that she'll ride down to Alike's stop, but Alike is insistent and all but pushes Laura off the bus.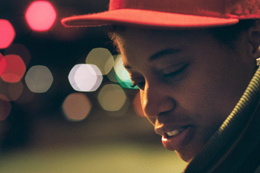 Once Laura's gone, Alike slowly transforms herself. She removes her baggy sports jersey and flat-billed hat, and dons a pair of earrings. It is a wordless transition, which accentuates a specific femininity — one that we assume is expected wherever Alike is going.
With her new look in place, Alike rests her head against the window as blurry blobs of color drift into and past her head, out of focus signs that could be mistaken for the disparate thoughts of a teen woman.
In the first minutes of Pariah we are shown everything that we need to know. Now it is just a matter of following Alike from moment to moment as her story plays out.
Alike is caught in the middle in almost every situation she faces. She is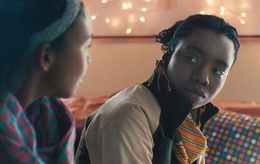 gay, but cannot embody that at home, nor as a seventeen year old is she fully comfortable with her own sexuality. Her explorations are sweet and innocent, and also awkward or sometimes heartbreaking. She is not fully an adult, but no longer a child. She is one of the brightest in her class, but academics are not prized in her social circle.
Most viewers should find resonance in her story even if their situation is not that of a middle-class African-American teen lesbian living in Brooklyn. This story is about transition and embracing what is at the core of who we are.
Adepero Oduye gives a powerful performance, and plays Alike with a comfort and nonchalance that makes it easy to forget that this is an actor playing a character. The specificity of mannerism that Oduye gives Alike makes this character into a fully rendered human being, and makes it easier for a more general audience to understand what she is going through. She's not a caricature or a talking point. She's just a person.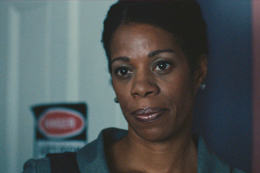 Pernell Walker as Laura compliments Oduye, and Laura works as an effective foil to Alike. Both Charles Parnell and Kim Wayans as Alike's parents play their roles with tact and grace, never overplaying their parts, but still endowing them with depth and understanding. Wayans in particular does a great job of walking that fine line between concerned and overbearing, and gives flesh and spirit to an unlikable character.
Dee Rees uses both the written page and her visual frame effectively. Her story is well-written and relies on its visuals. As director, Dee Rees moves from intimate close ups that constrict the characters or draw us into their thoughts to wider shots that force these characters to react to the world around them. She also uses overt colors to add a rich and tactile element. This is not a drab world filled with stark emotions. This may be a confusing world, but it's also multi-textured and passionate.
A hopeful and endearing film, Pariah shows that excellent characters make a story possible. Dee Rees' deft direction and choices that illustrate her specific vision complete Pariah, an exciting entrance for this young writer/director.