"Paranormal Activity" movie review
Find out why Eric's actual theater-going experience ruined the movie for him here.
I try really hard to go into movies without prejudice. But with the advertising tactics being employed to push "Paranormal Activity," I've found it very difficult to not be extremely skeptical.
Take a look at the posters. They're going for an amateur/home-made/printed at Kinko's look I find almost infuriating. Of course, the trailers that contain more scenes of people reacting to the movie than actual scenes from the movie is a pretty brilliant way to sell it. The midnight screenings in college towns and the whole "demand it in your area" campaign is also clever, if also slightly annoying.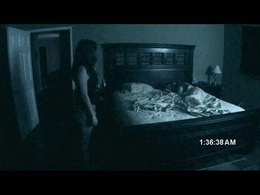 I get it. They're trying to capture that "Blair Witch" magic. But this Herculean task is difficult particularly because of the backlash "The Blair Witch Project" inspired. The movie that launched a thousand shaky-cams disappointed those who thought the footage might be real, or didn't care about the characters, or were expecting more scares or gore.
But while Paramount has been careful to not explicitly state that the footage that comprises the movie is real, they're being coy in a way that will leave many people to assume it is. Nowhere is this more clear than in the introductory text, which is something to the affect of "Paramount Studios would like to thank the families of Katie Featherston and Micah Sloat, and the San Diego Police Department."
I don't think the movie needs it, but I can appreciate that it ratchets up the suspense by narrowing down the places it can go. But its inevitable that some people are going to take that it at face value and assume its real. Make no mistake, this isn't real. These are actors.
Fortunately, they're good actors. I don't know if any of the dialogue is improvised, but the way they talk to each other will feel very familiar to anyone who has ever been in a long term relationship that is facing a crisis. Both characters are charming and amiable in the same way that makes reality television appealing. Even when both have their stubborn moments, this movie never falls into the trap of making either character an illogical stereotype. They're not movie star attractive, and actually look and talk like an average couple. This is a big part of a definite sense of realism that really grounds the proceedings.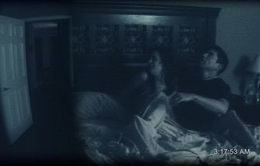 Of course, realistic can be good, but also boring. Thankfully, the tight editing and smart pacing keeps that from happening. The plot is simple: A couple in a long term relationship have recently moved in together. As they start to notice strange noises and other unexplained phenomena, the girl reveals she's been seemingly followed by those phenomena since she was a young girl. Confident that there's a rational explanation, the boyfriend buys an expensive camera that can also record in the dark. He figures that after a few days of nothing strange captured on video they can both put it to rest.
Of course things don't quite turn out that way, and a visit from a psychic leaves him more skeptical and her more afraid of what they're dealing with. It seems the more attention they grant the phenomena and the more they fight over what to do, the more empowered and active it seems to become. What is it exactly that's toying with them? And is there anything they can do? Are there lives in danger? These questions all make for an engaging and suspenseful movie, filled with some of the most affecting jump scare moments I've ever experienced.
There are also a lot of filmmaking lessons to be learned by how this movie builds its suspense and payoffs. First off, the movie's assembled as if from found footage, and only things of interest pertaining to the haunting is shown. This makes for some skipping around in time and fast forwarding through long, static shots. As most of the strange things that happen occur at night while they're asleep, the static camera angle it returns to is a cue to the audience that something bad is about to happen. This just ends up putting you on edge so that you're still caught off guard once something does happen.
In addition, nearly all of the camera work is brilliantly executed. Sure, there's some dreaded shaky-cam moments as one character or the other begin to play with the camera, but on my first viewing I didn't notice any "cheats." No moment stuck out that seemed unlikely it could have naturally occurred the way it did by incorporating the camera.
The special effects themselves also deserve credit for being fairly seamless and really selling the proceedings. In fact, nearly all aspects of this movie are stronger than expected. This really is the little scary movie that could, and I have no doubt it will find a huge audience that will appreciate it. Ultimately, "Paranormal Activity" is disturbingly good and good at disturbing.