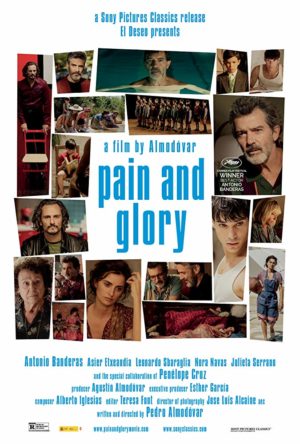 [Rating: Solid Rock Fist Up]

In a director's life, they are almost required to make that one film that is autobiographical, that tells their story, using their actor friends to portray themselves, and making their audiences ponder the everlasting questions of life. Such films come to mind as Fellini's 8 ½ , Truffaut's The 400 Blows and something as recent as Greta Gerwig's Lady Bird which has moments inspired by her life.

One of my personal favorite directors Pedro Almodovar returns with his own autobiographical feature Pain and Glory (Dolor y gloria), starring Antonio Banderas as an Almodovar-type director, Salvador Mallo, as he grapples through the memories of his life through his personal pain. This film is as personal as they get, and it is rich to see Almodovar direct a film as touching and inspiring as this.

Salvador Mallo is in pain. As a director and writer struggling to come up with his next project, we learn of his many ailments including but not limited to: arthritis, chronic pain, depression, anxiety, and random choking. When a film of his is re-released, he has to meet with the star of his film, Alberto Crespo (Asier Etxeandia) with whom he had a falling out with (mimicking as some say, the falling out of Almodovar and Banderas). Mallo and Crespo reflect on old times, smoking heroin and discussing their lives over the past thirty years. In contrast to this, we flashback to Mallo's childhood. Growing up in a cave house with his father and mother Jacinta (Penelope Cruz), young Salvador befriends a local labourer Eduardo (Cesar Vicente), who Salvador teaches to read and write.

Through all his struggles in his current life, Mallo still reflects on past moments that changed his life. His first love, Federico (Leonardo Sbaraglia) returns to reflect on old times and moments of passion, and Mallo's elderly mother (Julieta Serrano) asks her son to let her die peacefully in the country, a promise he hopes to makes and how one moment with Eduardo in his youth, lead to his whole life changing.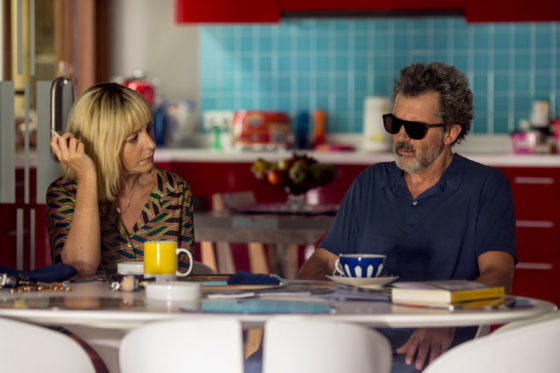 Though this isn't my favorite of Almodovar's canon (that honor goes to All About My Mother), I can't help but appreciate just how masterful this is. This is a true auteur at his craft and with Banderas in the role, this is ACTING. It's such a subtle role, with no big flashy moment, that depends more on how Banderas himself channels his director and reflects on his life. The main set of this film, the apartment of Salva, is Almodovar's own apartment, and it is beautifully made up in reds, a signature style of the director. Contrasted to Salva's childhood in a white painted home, he has experienced a helluva lot to get the red.

One moment I would love to talk about is the final shot. No spoilers of course, but I was shocked and moved to no end. Probably one of the best final moments in 2019 film so far.

Pain and Glory is Almodovar at his most mature, because it is his story he is throwing out to audiences on screen. Through the role of Banderas, we understand both the painstaking task of life, and yet the glory that comes in the end with the choices we make and the moments in life that change us forever.