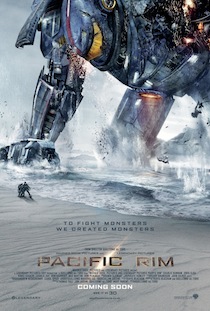 To say that giant robots fighting enormous monsters is not everyone's thing might be an understatement. Kaiju or giant monster movies have been with us since at least the 50s, and since that time they have been loved, hated and laughed at. I don't see why any of that will change with the release of Pacific Rim.
What Pacific Rim and its director Guillermo del Toro may finally be able to accomplish is mainstream acceptance from a Western audience while staying true to the genre.
In Pacific Rim alien monsters have been coming to Earth through a rift at the bottom of the ocean called the Breach. To fight these monsters, governments across the world created the Jaegers, giant robots driven by two pilots who are psychically linked. The more compatible the pilots the better they fight the monsters.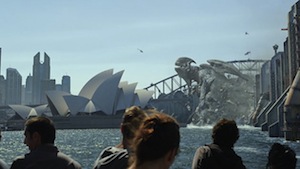 Pacific Rim is not short on cathartic visual pleasure. There are some spectacular fight scenes that traverse coastal cityscapes. Monsters pull down bridges, robots smash grain carrying rail cars, and many buildings come crashing down. Though these grand clashes are driven by computer-generated images, there is still a sense of weight to them.
One thing that impressed me was the sense of scale. Often when directors try to incorporate big monsters into their films there is a shifting sense of scale when it comes to way the monster or giant robot interacts with the environment. In each fight the choreography of action was clear and not confusing, a feat that shouldn't be as rare as it is.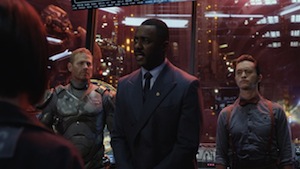 For all of the destruction that Pacific Rim offers, the characters (You know those people who make us care when the explosions stop?) are not forgotten. There is a lost brother, a couple of father and child relationships, and even the hint of romance. Most importantly we can see that each of these people have pasts that inform the decisions they make now and give them something to fight for.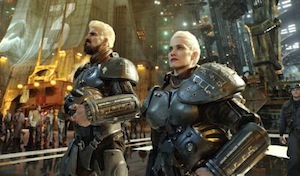 I want to make one more point in closing. Pacific Rim is not a sequel or reboot. It does not rely on a known entity. It is an original story, one that pays tribute to other films and occasionally drifts into cliché but is original none the less. For that sheer excitement of not knowing how everything might end and showing us some original content, thank you Guillermo del Toro.
For those who are hardcore about their kaiju consumption Pacific Rim is not perfect, but for those who are looking for a fun and thoughtful summer movie with more character than most, Pacific Rim should do the trick in a big way.
Want to check out some of the films that influenced and lead to Pacific Rim? Check out my Top 10 Kaiju Films.