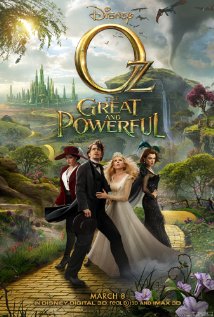 James Franco and Sam Raimi return to Oz for the first time in Oz the Great and Powerful, but is the trip worth it?
The answer is a resounding "kind of."
Raimi's first movie in four years, Oz is certainly ambitious. It's a two-hour hero's journey story that attempts to marry the 1939 classic (which belongs to another studio) to a prequel that, thanks to advancements in special effects can be infinitely more complex, detailed and virtual. It's also a part origin story for both Oz and The Wicked Witch of the West, as well as a winking homage, an immersive 3D experience, rife with slapstick and Raimi-isms aplenty.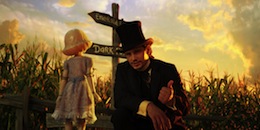 The biggest problem is that it manages to do none of the above – save the origin story – successfully. The "hero" in this hero's journey is never likable or sympathetic, homages are either too overt or go largely unnoticed. The 3D is at times flat, at times kitschy and mostly just distracting, the slapstick and other Raimi-inspired cues are wedged in at inopportune times, save the end, which is a fitting send off to the film's villain. In short, the movie  plays a lot like a kid-friendly version of Army of Darkness.
Some of these shortcomings, particularly the story could have been spared or at least improved upon with a better leading man. Franco is exceptionally wooden, even by James Franco standards. He sleepwalks through his lines and expresses the minimum amount of emotion necessary to still be classified as emotion. And while Mila Kunis has substantially bigger shoes to fill, playing an iconic character, she's not up to the task either.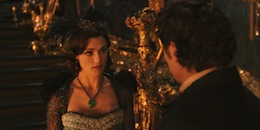 So what works in Oz the Great and Powerful? Well, for starters, Michelle Williams and Rachel Weisz are fantastic as Glinda and Evanora, respectively. Williams is as close as the film gets to the Old Hollywood vibe it occasionally seems to be striving for at times. Her version of Glinda is perfectly in step with her 1939 counterpart played by Billie Burke. And Weisz plays the villain well, and seems to be the only actor in the film having any fun.
On the special effects front, the China Girl, voiced by Joey King is remarkably emotive and affecting. This is thanks in no small part to King's excellent voice work. Finally, Zach Braff plays an excellent comedic foil, both in the film's excellent real-world opening and later as the voice of Finley, Oz's right-hand flying monkey.
In all, Oz the Great and Powerful is a mixed bag that doesn't quite have enough going for it to satisfy anyone other than the diehard Wizard of Oz fans. There are good parts, sure. But they're weighed down by a litany of elements that never quite comet together to form a satisfying whole. Proceed at your own risk.
Here's Scene-Stealers editor Eric Melin's decidedly different take on Oz the great and Powerful, and our Scene-Stealers podcast, where we hash it all out!