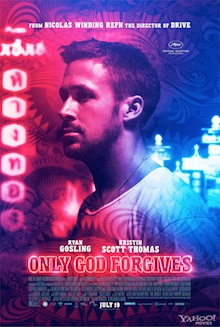 2011's Drive seemed like a step up for director Nicolas Winding Refn, whose previous films featured some outstanding elements, but also seemed to lose themselves in their director's love for gratuity and pulp. It was always clear that he possessed a skilled hand when it came to building tension or crafting beautiful scenes that had one foot in schlock and one foot in something higher minded, something impressionistic. But with Drive, the pendelum seemed to have swung decisively in the direction of the latter. It is a masterful, beautifully made film with enough nods to other films and characters to make it feel familiar, and enough daring decisions and well drawn characters to make it fell wholly its own as well. Critics of Drive saw it as more of the same, focusing on the sudden and graphic violence and lumped it in with Refn's other works as being gratuitous and pointless.
Now, with Refn's latest Only God Forgives, we're given a chance to see if Refn can continue to elevate his work alongside returning lead Ryan Gosling or if Drive was a high point for the director, a "sweet spot" film that will haunt his future work for the rest of his career. While it's too early to tell whether he's peaked, one thing is clear: Only God Forgives is a huge step backward.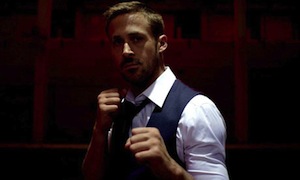 A combination of a revenge film and Freudian psychodrama, Only God Forgives follows Gosling's character Julian, an owner of a kickboxing ring in Thailand who also happens to have deep connections to organized crime. When Julian's brother Billy rapes and murders a 16-year-old prostitute, he is subsequently murdered with the help of vigilante cop Chang, played with great stoicism by Vithaya Pansringarm. Upon learning this, Julian sets out for revenge, but as he learns more about his brother's crime and as his horrifying mother played by Kristin Scott Thomas shows up, the waters or revenge are quickly muddied.
On paper that sounds great. A deconstruction of the revenge genre told from the perspective of what a normal person would consider the villain (a drug-dealing mobster, whose brother performed the original wrongdoing), but somewhere between the page and the screen there is a disconnect. And the result is a film that speaks to every one of Refn's bad habits. Only God Forgives is violent to the point of gratuity, which again, is fine when it means something. Here it only serves to shock and confuse. His direction is bizarre and disjointed. Many characters seem like they're in totally different movies from one another.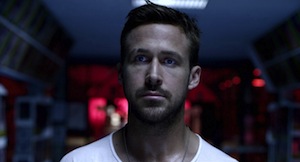 Gosling's Driver was stoic, but capable of explosive rage and had an actual code – there were things about him that made him human. Here, his Julian is wooden and devoid of personality. If he is internalizing his feelings, Gosling makes no attempt to convey that internal struggle and Refn doesn't bother to include any details that would make it apparent.
The film does score some points for its constant atmosphere and the sense of dread that permeates every scene. For a film so violent, Thomas' speech during a dinner with her son and his prostitute girlfriend is the film's most uncomfortable moment. Lastly Cliff Martinez creates another excellent score. Only God Forgives serves as a major misstep in Refn's career. It's clear every shot, every frame was an intentional, calculated decision by the director, but the resultant film is a misguided look at revenge and family issues that never really figures out what it's trying to say, good intentions or not.