In Billy Wilder's 1960 Best Picture winner "The Apartment," an ordinary guy falls in love with a lovely woman who is stuck in an affair with a married man. The man keeps making promises to her that he'll leave his wife and family, but he never does. Wilder had the rare gift of being able to blend light comedy and heavy drama into most of his films, and "The Apartment," starring Jack Lemmon, Shirley MacLaine, and Fred MacMurray may be the best example of this.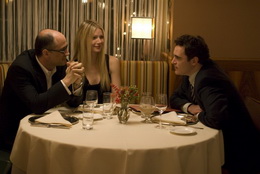 Writer/director James Gray mines similar territory for a very different, downbeat mood in "Two Lovers," which actor Joaquin Phoenix has announced is his last film role ever. (I don't believe him, but that's another story.) Loosely based on Fyodor Dostoevsky's short story "White Nights," the movie differs in one very distinct and important way. The book contains the inner thoughts of its troubled main character, who narrates the entire thing. In "Two Lovers," we are left to guess what the internal monologue of brooding Leonard (Phoenix) might be.
It's probably it's a good thing that we can't get into Leonard's head, because it's not a pleasant place. The film opens with his aborted suicide attempt (it's inferred that it's not the first one), as he jumps off of a Brooklyn foot bridge in to the water. Leonard has been recently dumped by his fiancee and has moved back into his childhood bedroom at his parents' home in the Brighton Beach neighborhood.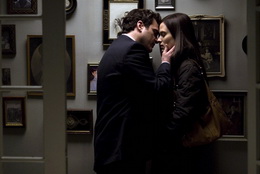 Gray gives much attention to the setting of his film. Leonard's Jewish heritage and the importance it plays on family are key to understanding who he is. His parents, especially his mother (played by Isabella Rossellini), are not overbearing cliches. They really do have his best interests at heart and give him a lot of leeway. In just a little bit of screen time, Gray forms a strong bond between Leonard and his family, and illuminates some of the shame that he feels.
Like his past Phoenix collaborations ("The Yards," "We Own the Night"), Gray paints "Two Lovers" with dark colors and rich contrast. It's almost always either night or at least dusk, and Gray's heartsick main character seems to suck in the darkness like oxygen.
Light breaks through in the form of Michelle (Gwyneth Paltrow), a dynamic, club-hopping blonde who lives in an apartment that's paid for by the married businessman (Elias Koteas) she's sleeping with. Of course, Leonard immediately falls in love, and because he is such an introvert, Michelle is able to project whatever she needs onto him. Desperate to have a sexual relationship with her, he becomes a reliable catch-all for her problems and puts the affections of new family friend Sandra (Vinessa Shaw) on hold.
When he's with Michelle, Leonard's drive to impress helps him break out of his shell. A revelatory scene on the dancefloor could have been a sloppy character transition in the hands of a less gifted actor, but Phoenix has an uncanny ability to play wounded animals like Leonard and make you root for them, even when they follow destructive paths.
"Two Lovers" is a quiet film, but its intensity comes from the fact that we understand deeply how much it all means to Leonard.