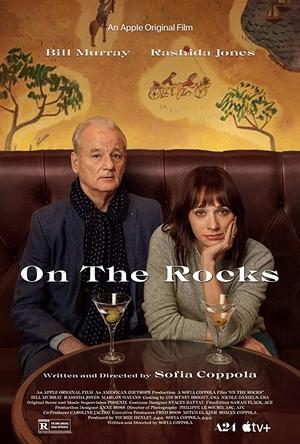 [Rating: Solid Rock Fist Up]
In select theaters October 9. Premiering on Apple TV+ October 23.
Watching a Sofia Coppola film is like indulging in a fancy piece of chocolate. One bite is a gateway to luxury that is never taken too seriously, while the rich satisfaction is all the same. Candy to the eyes and mind, Coppola crafts features that smoothly encompass your soul and stay with you long after the credits roll. Coppola's newest film, On the Rocks, like her others, is a charming venture into problems associated with high-end lifestyle and the loneliness it can create. Marital problems, a tumultuous father-daughter relationship, and gender norms are commented on in full force by Coppola, coming to life with an exceptional ensemble lead by Rashida Jones and Bill Murray.

On the Rocks is a classy New York romp about classy New Yorkers submitting to their paranoia and anxiety. Laura, played by Jones, feels undesirable in her husband Dean (Marlon Wayans) after years of marriage and two young children. Entering her late 30s, Laura begins to question the choices of her life, stuck with an incurable case of writer's block and suspension that her husband may be having an affair with a coworker. Fanning the flames of the conspiracy is Laura's wealthy playboy father Felix, played by Murray, whose own unfaithful actions in the past lead his assumptions on Dean. Desperate for answers, Laura takes her father's advice and the two come together to spy on Dean and make discoveries over their own rocky relationship.

If the plot summary of On the Rocks sounds simple to you, it's because it absolutely is. Playing like a modern-day Douglas Sirk film, On the Rocks is a straightforward narrative that weaponizes camp as a tool to expose deep layers of subtext. Though a mystery of potential infidelity is being uncovered, Coppola trades the excitement of twist and turns for a tantalizing conversational dialogue exploring the character's psyche. Instead of a formulaic moment of failure or despair to trigger personal growth and discoveries, the film simply has the characters work out their issues in front of the camera. It's like a charming trip to someone else's therapy.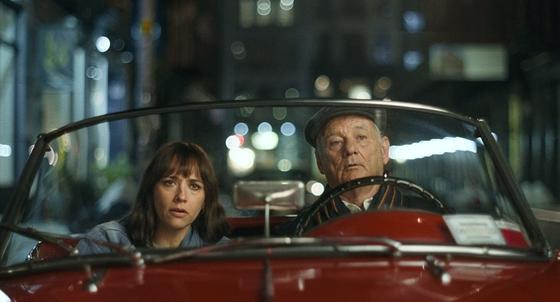 Sofia Coppola is one of the most original auteurs of today, making each new release a gift that expands her impressive filmography. From the dreamy cinematography to the ironically sharp deadpan dialogue, On the Rocks just feels like a Coppola film that effortlessly puts you in a comfortable trance. The characters come alive with ease and as they so willingly share every thought that pops into their head, you get attached to their every word that perfectly paints the picture of their existence. Never having to guess how they feel, Coppola lets her characters express themselves with no fear of looking dumb or judgment of the audience. We are then left to bask in their flaws and learn from their strengths.

What makes On the Rocks so soothing is the calmness in the midst of the chaos. Even though Laura is at an emotional impasse and on the brink of a meltdown, Coppola lets her actions divulge into the deplorable, while maintaining the character's good-natured temperament and personality. Never pandering to an over-the-top explosion of an emotional climax, the film isn't about the drama that we keep bottled up in our own head. Harder to film than someone shouting onscreen, Coppola masterfully captures this in the blunt matter of fact dialogue and invasive shots of characters at their most vulnerable.

Jones and Murray didn't need to be fantastic for Coppola's clever script to work, but it's only a bigger plus that they were. Casting hit a home run, putting the spotlight on Jones who has always shown the potential of her dramatic chops but is usually presented as the straight-face in comedies. Irresistibly charming, Jones at playing the film's comedy while also expressing the mental turmoil her character is going through. Contradicting her father's pretentious notions on the relationship between men and women, Jones easily captures what there is to love about Laura even when she's not at her best.

Murray, as can be expected, is amazing in this role that seems tailor-made for him. Partnering once again with Coppola, Murray gives his best playing a role that oozes his one of a kind charm while also being an almost caricature of himself. Felix is lovable but problematic. Murray never hides this for his own star identity, allowing for the characters once acceptable ideology is shown along with his kind spirits. Never going too far into the character's playboy archetype or Murray's symbol as everyone's favorite fun goofy grandpa, an authentic aging character is on display, giving crucial power to the film's most intimate moments.
On the Rocks doesn't quite stick its landing as well as one would hope. Coppola effectively presents all of her ideas in the film and attempts to tightly wrap them all up at then. However, as smooth as the film is, the themes are too messy to give it a deserved clean ending. The sentiment of the outcome isn't the problem, it's the bow on top that doesn't feel appropriate. As much as you like the characters and can find satisfaction in their growth, something feels off in how it is presented in the final few scenes. Possibly a rush in filming, a case of Coppola's own writer's block, or the simple state of it not being great, the ending of On the Rocks doesn't click as well as it should. Everything up to that point though is a treasure and Coppola doing what she does best.