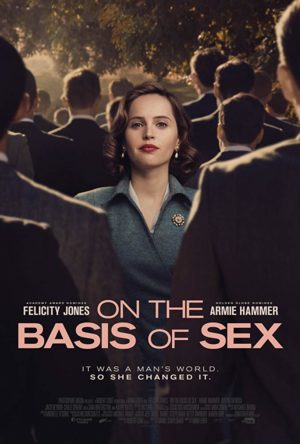 [Rating: Swiss Fist] 
Biopics, particularly when the subject is still living, are difficult. There's the accuracy issues, having to line up important dates with historical relevance (or not – Bohemian Rhapsody), and portraying a multi-dimensional person, rather than a superhero. After performing that hat trick, the movie also has to be interesting.
On the Basis of Sex, directed by Mimi Leder, doesn't quite get the hat trick, and also fails to make the story about the early struggles and eventual success of Supreme Court Justice Ruth Bader Ginsburg into a compelling film. In 2014, the screenplay, written by Ginsburg's nephew Daniel Stiepleman, was on the Black List of best unproduced screenplays. And like Green Book earlier this season, the script suffers for the familial connection. Family is too close, and has too much invested in legacy, to write these things honestly.
The costumes and sets are beautiful and appropriately vintage. The insidious sexism infuriating. The acting is … fine. And the directing? Uninspired. The movie felt like an overlong episode of a television show. I honestly have no idea why it's PG-13 instead of PG. I guess they say the word 'sex' a lot.
I assume most women of my generation are huge admirers of Justice Ginsburg, and so am I – going so far as to name my Bernese Mountain Dog "Ruth Bader GinsBern" (I also admire bad puns). So I was pretty excited about this flick, kind of seeing it as the biopic answer to Wonder Woman. And at first – it delivers.
In 1956, young mother and wife Ruth Ginsburg (Felicity Jones) begins her first semester at Harvard, where her husband and genuinely biggest fan Martin Ginsburg (Armie Hammer with obvious Oscar dreams … again) is two years ahead of her. Hammer waffles between melodrama and recitation, while Jones waivers between her natural English accent and that of a Brooklynite.
As good as she is at being short and serious-faced, Jones feels miscast. Ginsburg was lovely in a more exotic way in her younger days. Lizzie Caplan, a year older than Jones, would've been a better choice in both look and steely reserve.
When Martin is diagnosed with testicular cancer, the school allows Ruth to attend her husband's classes to take notes for him, while also attending her own, and it becomes obvious that nobody cares what happens to this woman. She can burn out and crash her own career trying to support her husband's – its fine – because nobody thinks she should be there anyway. But instead of failing, she excels – pulling double law school duty, caring for her daughter and sick husband, and ultimately earning spots on both Harvard and Columbia Law Reviews.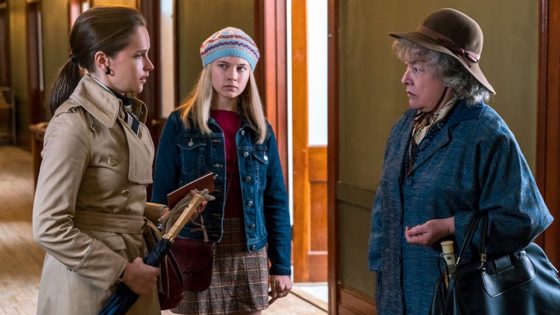 After school, she is unable to get work at a law firm because of that pesky vagina, so she begins teaching law at Rutgers. This brings us to the second half of the movie – The Big Case. Noticing a gender angle on a tax case, Martin hands it over to his wife. For support, Ruth reaches out to Mel Wulf (Justin Theroux, the best performance of the bunch), the astonishingly unenlightened legal director of the ACLU.
The second half is so boring and long and full of close ups of furrowed brows that I actually forgot Kathy Bates was in the movie while writing this. So, also, Kathy Bates is in it doing a very Kathy Bates character.
There just has to be more nuance to these people. Hasn't Ginsburg ever flipped someone off behind their back? Written a bad brief? Lost a devastating case? Didn't anything ever sting? The movie shows a saint whose greatest sin is perhaps being an occasionally emotionally distant mother. There's not a quirk to be found. The legacy wins out over the reality – did she really have no regrets in this career? What did she trip on, what held her up (besides that damned patriarchy)?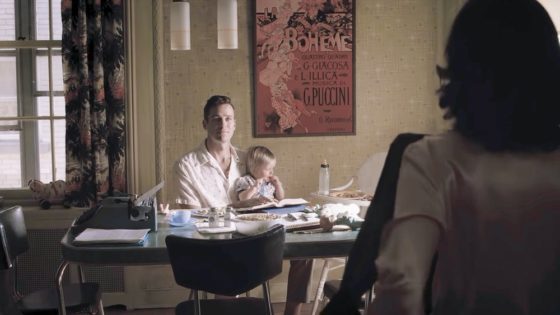 The best moments in the film show the oddity of a 1970s husband cheerfully and skillfully doing the emotional work it takes to support a family so his wife could be her best brainiac self. In fact, the moral of the movie could be that a woman can have everything – the family, the marriage, the career, the ability to decide the law of the nation – if she's got an open-minded, brilliant man who also makes millions of dollars (not unlike successful men supported by their wives and occasional inheritances). There's no tension. Surely, Ginsburg missed a school play she wanted to see? Or, perhaps actively working to give your daughter more rights excuses you from mom guilt ("I'm sure you were wonderful in Our Town. By the way, James legally has to split our fortune with you now. You're welcome.").
If you want to learn about RBG, watch the documentary titled exactly that. It's excellent and interesting and inspiring. This is watered down to be inoffensive – everyone can cheer for the plucky heroine, while not acknowledging things that could alienate an audience, like her abortion stance or You-Know-Who comments or that time she had to recuse herself after losing a poker game with Antonin Scalia (one of those might not be real).
While RBG has been the hero we needed for a long time now, this is not the biopic she deserves.